Exposiciones/

Exhibitions

2018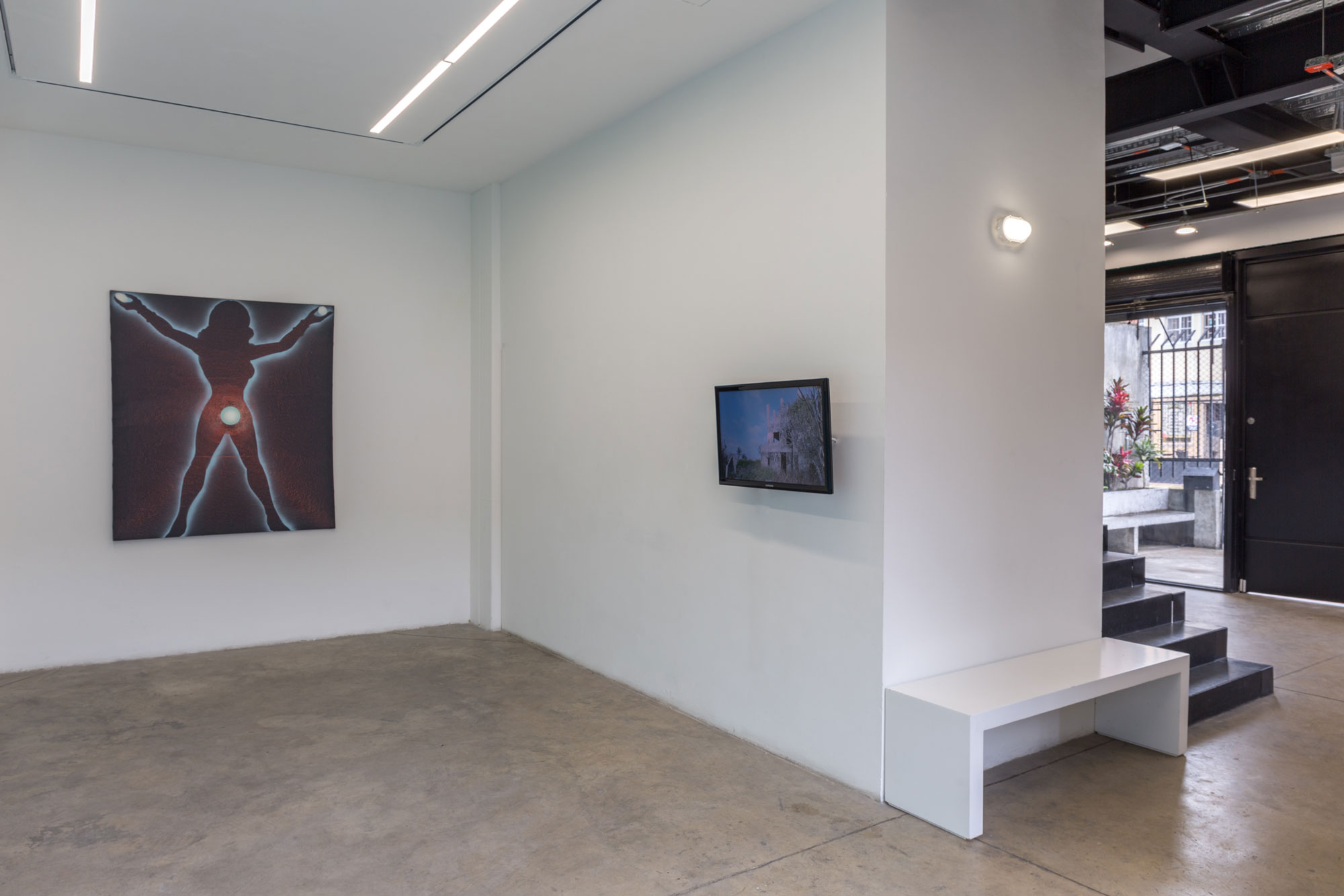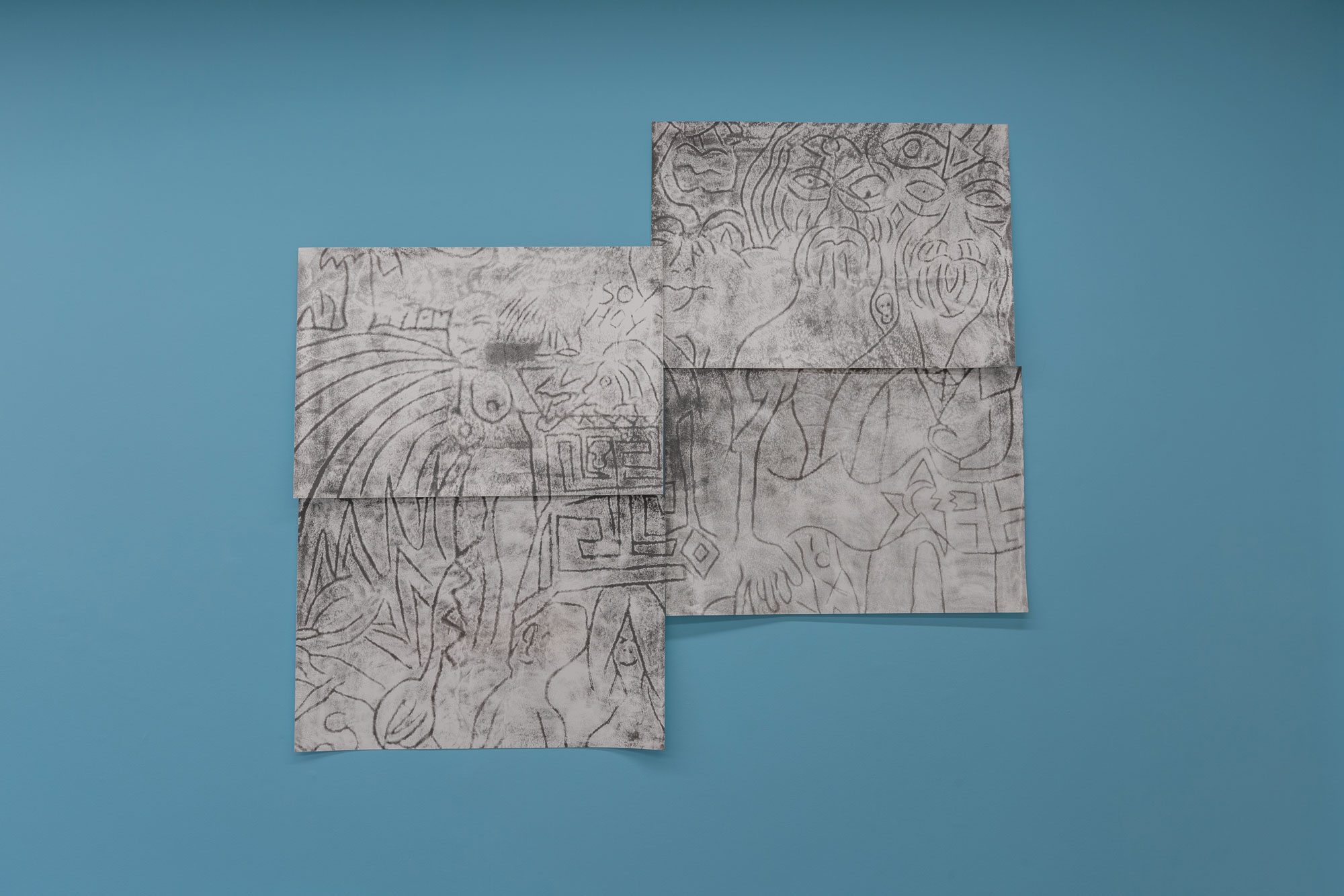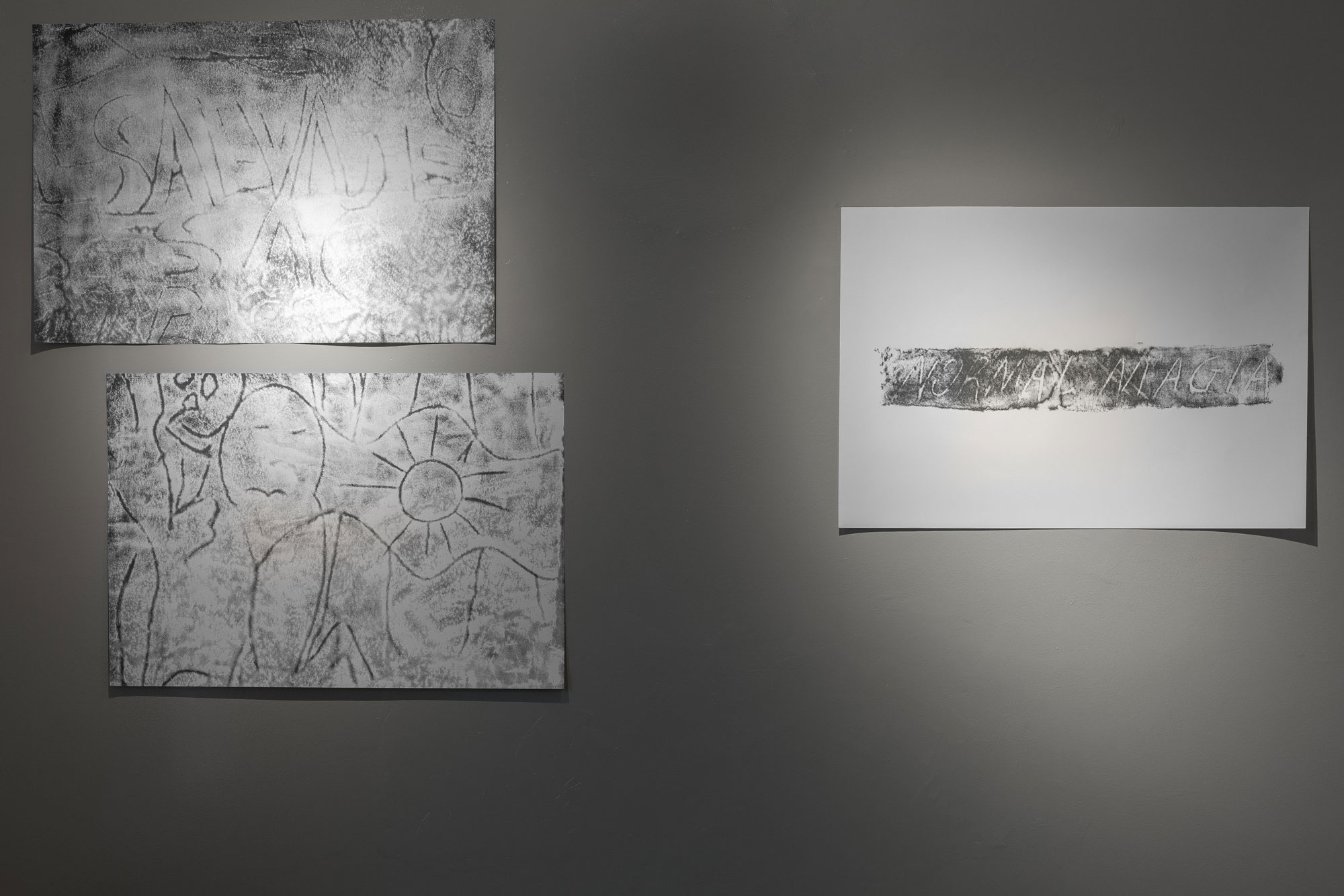 SOY HOY. Un diálogo entre la obra de Norman Mejía (Cartagena 1938) y María Isabel Rueda (Cartagena 1972)
Norman Mejía, María Isabel Rueda
Curaduría: María Camila Montalvo
Texto: María Isabel Rueda
Abril - Mayo 2018
Fotografías: Sebastián Cruz
Norman Mejía, María Isabel Rueda
Curator: María Camila Montalvo
Text: María Isabel Rueda
April - May 2018
Photographs: Sebastián Cruz
Soy Hoy. Un diálogo entre la obra de Norman Mejía (Cartagena 1938) y Maria Isabel Rueda (Cartagena 1972).
La casa se desmorona y yo con ella.
Resistir, resistir, resistir…. Vale la pena?
Cuál es mi lugar?
Aquí?
Ninguno?
La lujuria de una mujer con ansias salvajes se dispersa entre sus cuatros paredes. Curiosamente las paredes se le desploman.
Sus visiones se doblegan como un bicho ante sus propios demonios. Esclava de una línea difusa que es violada una y otra vez.
La silueta de un cuerpo aún virgen, transita entre los muros, entre la brisa, el monte, el patio, el tiempo y el mar.
Sola, cual enredadera que molesta, se agarra de cualquier cosa y a su paso pareciera deja huella y sombra.
Desesperada duplica las paredes con el polvo de su dedo ciego, copia táctil de sus fantasmas, calco de sus palabras de mujer que es. Mujer grafito es verdad que soy?
Es cuestión de comenzar mirando por casa: Soy Hoy.
María Isabel Rueda
Puerto Colombia, Marzo de 2018
THE REAL. RETRATO DE NORMAN MEJÍA
- María Isabel Rueda -
Artista visual, vive y trabaja en Puerto Colombia.
Conocí a Norman Mejía por lo que llamaríamos cosas del destino. Francisco, un amigo muy cercano, me llevó a su encuentro. En realidad no conocía la obra de Norman, pero recordaba unas imágenes que alguna vez había visto en un programa de Telecaribe que me cautivaron y quedaron guardadas en algún lugar de mi mente. Borrosas asociaciones con Barba Azul y Gilles de Rais, me llenaban de terror y al mismo tiempo de deseo.
Hace poco descubrí que esas imágenes que había visto en televisión, las había filmado Luis Ernesto Arocha, quien es hoy en día para mí el más interesante cineasta barranquillero. Luego apareció en mis recuerdos su referente más común:
"La Horrible Mujer Castigadora"
obra con la que ganó el premio de pintura en el Salón Nacional de Artistas del 65. Me gustaba mucho el título. Lo que pasó esa tarde y casi noche, sin yo saberlo, cambiaría el rumbo de mi vida. Cualquier anécdota, historia o recuerdo se hacen insuficientes; Norman fue una de esas pocas personas que conoces a lo largo de tu vida cuyo encuentro es completamente necesario e intransmisible. Después de exhaustivas jornadas de monólogos, miradas directas a los ojos, música y otras cosas que no se deben contar, nuestras charlas terminaron siendo imposibles de registrar, ni siquiera en la memoria. Hablábamos durante horas en su casa en Barranquilla, en medio de la penumbra y con las ventanas cerradas, como si fuéramos espiados. Dos ventiladores apuntaban directamente a la silla en la que siempre estaba sentado Norman, esperándome, como en un trono, como el hierofante del tarot, con su parco naranja de flores, su camisa negra cuello de tortuga y su larga y trenzada barba blanca. Yo me vestía de negro en medio de un calor demoníaco especialmente para su encuentro. Él muy discretamente lo apreciaba. Norman, como el espejo mágico de Pitágoras (según cuentan, al encararse a la luna permitía ver lo que iba a acontecer), me devolvía mi propia imagen al futuro. Así, me imposibilitó hablar sobre él sin caer en la trampa de terminar hablando más bien de mí misma. Obligándome a permanecer prácticamente en silencio. Era solo Norman quien hablaba hasta perder su voz. Para su fortuna tenía el alma dividida en dos cuerpos, de tal forma que si su memoria fotográfica le fallaba en algo, Tina, su amada pareja, siempre estaba allí ―imperceptiblemente― para develar el daguerrotipo.
Entre miles de imágenes recorridas y como buenos Nigromantes, visitábamos su pasado, revivíamos a sus muertos y volvíamos. En uno de esos ires y venires apareció el Castillo. Norman lo guardó muy sutilmente en lo más profundo de mi subconsciente, como la pequeña casa escondida en lo más recóndito del bosque de los cuentos de terror para niños. Hasta que llegó el día que decidí ir a buscarlo. Durante casi nueve años me hice una cita con el Castillo, fotografiándolo en silencio, con y sin amigos, saludando siempre a la pareja de goleros que custodiaban la ruina, viendo como la fuerza de la naturaleza iba devorándolo poco a poco, mientras sus paredes se derrumbaban y desaparecían en su caída sus mujeres, sus juegos de palabras, sus placeres más ocultos, sus noches estrelladas, sus viejas glorias. Con el paso de los años mi secreto fue descubierto: le conté a un amigo, que le contó a otro par de amigos y fue así como nuevas generaciones llegaron al Castillo. Los muchachos llegaban, para tener encuentros clandestinos, para fumar marihuana a escondidas, o conquistar a una novia y fue así como en medio de esos muros y a fuerza de tener que contarse una historia, se armó el mito. Con el tiempo dejé Bogotá y decidí venirme a vivir a Puerto Colombia, por lo que tuve la oportunidad de visitar frecuentemente el Castillo, que ahora era vecino mío. Muchas veces fui a su encuentro a la caída de la tarde, como quien visita a un viejo amigo, sin esperar nada a cambio. Me gustaba estar ahí sin mi cámara, ir simplemente para ser testigo. Redibujaba en mi mente las imágenes borradas por la humedad y la lluvia, me acostaba sobre las paredes caídas. Sostenía los muros con la fuerza de la mirada. Tuve que verlos caer para entender mi vida de un solo golpe. Mosquitos y atardeceres, acantilados encima del mar.
Con temor decidí un día enviarle a Norman las fotos. Su voz fuerte, ansiosa y cariñosa temblaba detrás del teléfono. Hablamos de ruinas, del éxtasis de la destrucción, de la nostalgia del pasado, del imposible retorno, de lo difícil que resulta mantenerse en pie, de lo que se mantiene inalterable en su esencia y por primera vez me dio la impresión nos reconocíamos en las cosas de este mundo. Una semana antes de su muerte hablé con él; tenía un mal presentimiento, me urgía verlo. Pero Norman tenía una cita y postergamos nuestro encuentro. Antes de colgar Norman me habló de las fotos del Castillo, como si fueran su retrato, comentándome muchas cosas dignas de tener en consideración, pero demasiado personales para consignar en este escrito. Murió a los pocos días. Seguí visitando el Castillo después de su muerte, hasta que sellaron la entrada a la ruina.
I am Today. A dialogue between the work of Norman Mejía (Cartagena 1938) and María Isabel Rueda (Cartagena 1972).


The house crumbles and so do I.


Resist, resist, resist... Is it worth it?


Where is my place?

Here?


Nowhere?


The lust of a woman with wild urges scatters through its four walls. Curiously the walls cave in.


Her visions bend like an insect in front of its own demons. Slave from a diffuse line that is violated over and over.


The silhouette of a still-virgin body transits between the walls, between the breeze, the mountain, the backyard, the time and the sea.


Alone, like a climbing plant that bothers, it grabs onto anything, and seems to leave trace and shadow in its path.


Desperate, it duplicates the walls with the dust of her blind finger, a tactile copy of her ghosts, trace of her words of the woman she is. Graphite woman is it true I am.


It is a matter of starting to look through the house: I Am Today.



María Isabel Rueda
Puerto Colombia, March 2018
THE REAL. A PORTRAIT OF NORMAN MEJÍA
- María Isabel Rueda -
Visual artist based in Puerto Colombia
I met Norman Mejía by what we might call a matter of destiny. Francisco, a really close friend, led me to the encounter. Actually, I did not know Norman Mejia's work, but I remembered some images I had seen one day in a Telecaribe television show that captivated me and have stayed since then somewhere in my mind. Blurred associations with Blue Beard and Gilles de Rais, they filled me with terror and at the same time desire.

Not long ago I discovered the images I had watched on TV were filmed by Luis Ernesto Arocha, who I consider one of the most interesting filmmakers from Barranquilla. Then, in my memories appeared his most common referent: "La Horrible Mujer Castigadora" (The horrible punishing woman), an artwork that won him the Painting Award in the "Salon Nacional de Artistas" (National Hall of Artists) of 1965. I really liked its title. What happened that afternoon and almost night, without me even noticing it, would change the course of my life. Any anecdote, story or memory is not enough; Norman was one of those people that you meet in life, whose encounter is completely necessary and non transmissible. After some long days of monologues, eye to eye glances, music, and some other things that should not be told, our talks ended up being impossible to register, not even in memory. We talked for hours in his house in Barranquilla, through the gloom and with the windows closed, as if we were being spied. Two fans pointing directly to the chair where Norman always sat, waiting for me, as if it was a throne, like the Hierophant from the tarot, with his flowery orange coverup, his black turtleneck shirt and his long braided white beard. I dressed in black in the middle of the intense heat, especially for his encounter. He discretely appreciated that. Norman, as Pythagoras' magic mirror (apparently, it could show what was going to happen when facing the moon), gave me back my own image of the future. This way, I was unable to talk about him without ending up talking about myself. Somehow making me remain silent. Only Norman Mejía could talk until losing his voice. Fortunately, his life was split into two bodies, so in case his photographic memory missed something, Tina, his beloved partner, was always there to unveil the daguerreotype.

Among thousands of images looked over, and like good Necromancers, we would go back to his past, brought back to life his dead and came back. In one of those journeys the Castle appeared. Norman subtly stored it in the depths of my unconsciousness, like the little house hidden in the most remote part of the forest in children's horror stories. Until the day I decided to finally find it. For almost nine years I went to the Castle to photograph it in silence, with or without friends, greeting the couple of black vultures that kept the ruins safe, seeing how natural forces were slowly consuming it, while the walls would crumble and its women, its word games, its most hidden desires, its starry nights, its old glory would disappear in the process. Over the years my secret was discovered: I told a friend, who then told some friends and that is how new generations arrived to the Castle. Some people would go there to have clandestine meetings, to secretly smoke marijuana, or to win over a girl, and that was how in the middle of those walls and with the need of telling a story, a myth was born. After a while I left Bogotá and came to Puerto Colombia, so I was able to visit the Castle more often, since it was now my neighbor. A lot of times, I went there when the sun was going down, as someone that visits an old friend without expecting anything in return. I liked being there without a camera, to go just as a witness. I would redraw in my head the images that were already erased by the humidity and the rain, I would lay in the fallen walls. I would hold the walls with the strength of my gaze. I had to see them fall to understand my life. Mosquitoes and sunsets, cliffs over the sea.

With fear, I decided to send Norman the photos. His strong, anxious and loving voice trembled behind the phone. We talked about ruins, about the ecstasy of destruction, about the nostalgia of the past, about the impossible return, about how difficult it is to keep standing, about what is unalterable in his essence and for the first time I felt like we both recognized ourselves in the things of this world. A week before his death I talked to him. I had a bad feeling and I wanted to see him. But Norman had an appointment and we had to postpone our encounter. Before hanging up Norman talked about the pictures of the Castle, as if they were a portrait of himself, telling me some things worth taking into consideration, but too personal to write down here. He died a couple of days later. I kept visiting the Castle after his death, until the entrance to the ruins was sealed.
¡Cerramos!

info@adorno-liberia.com
We're closed!