Exposiciones/

Exhibitions

2018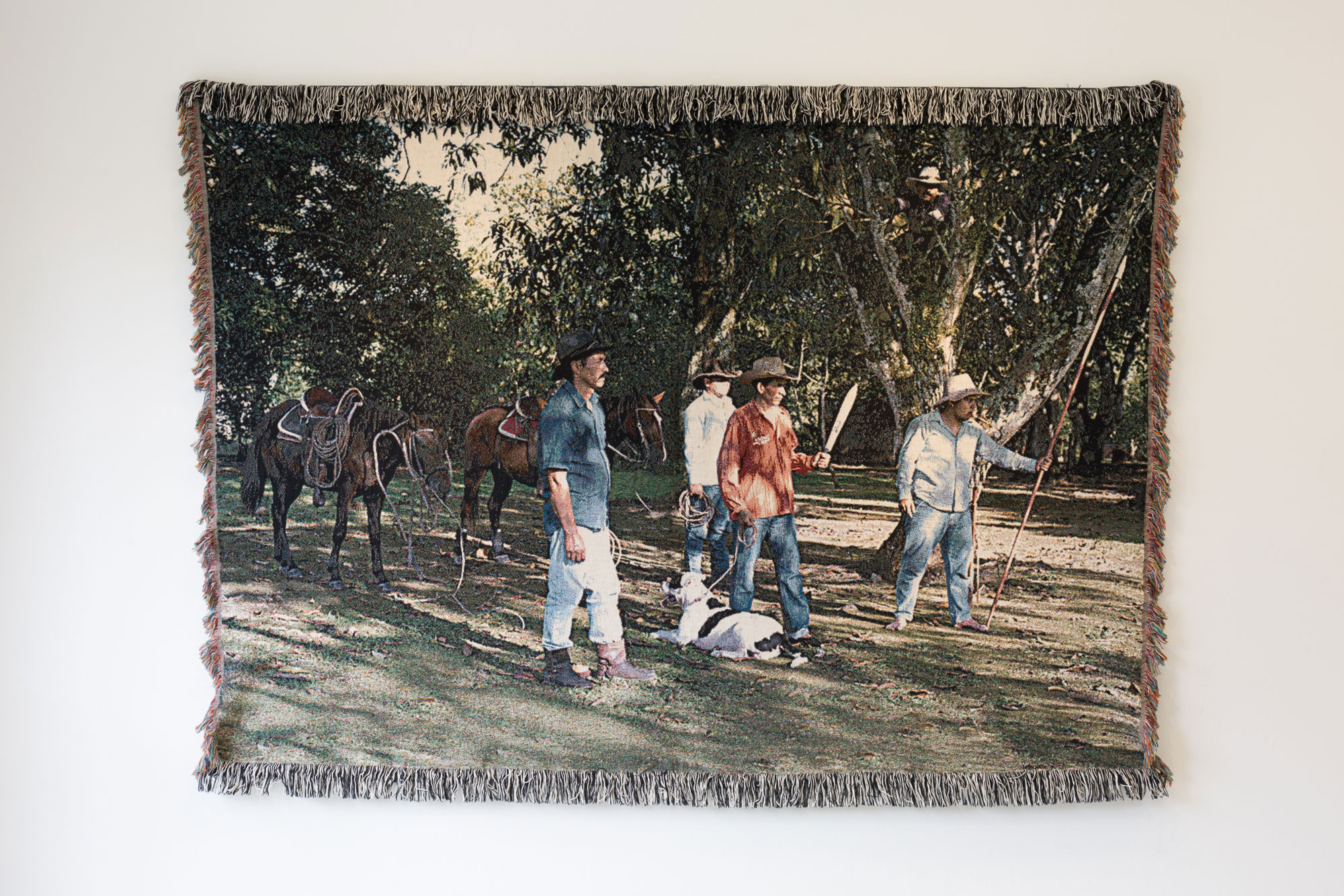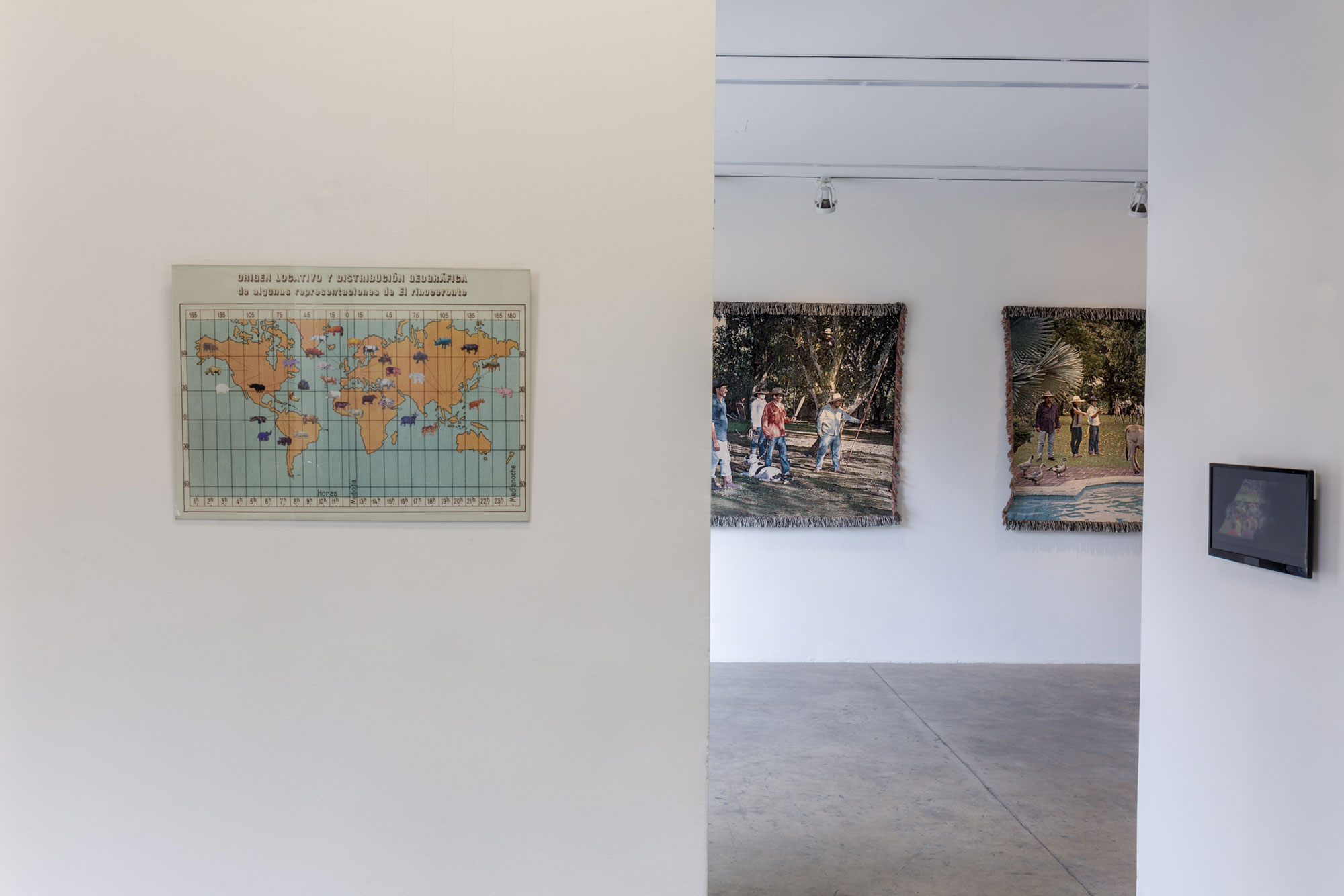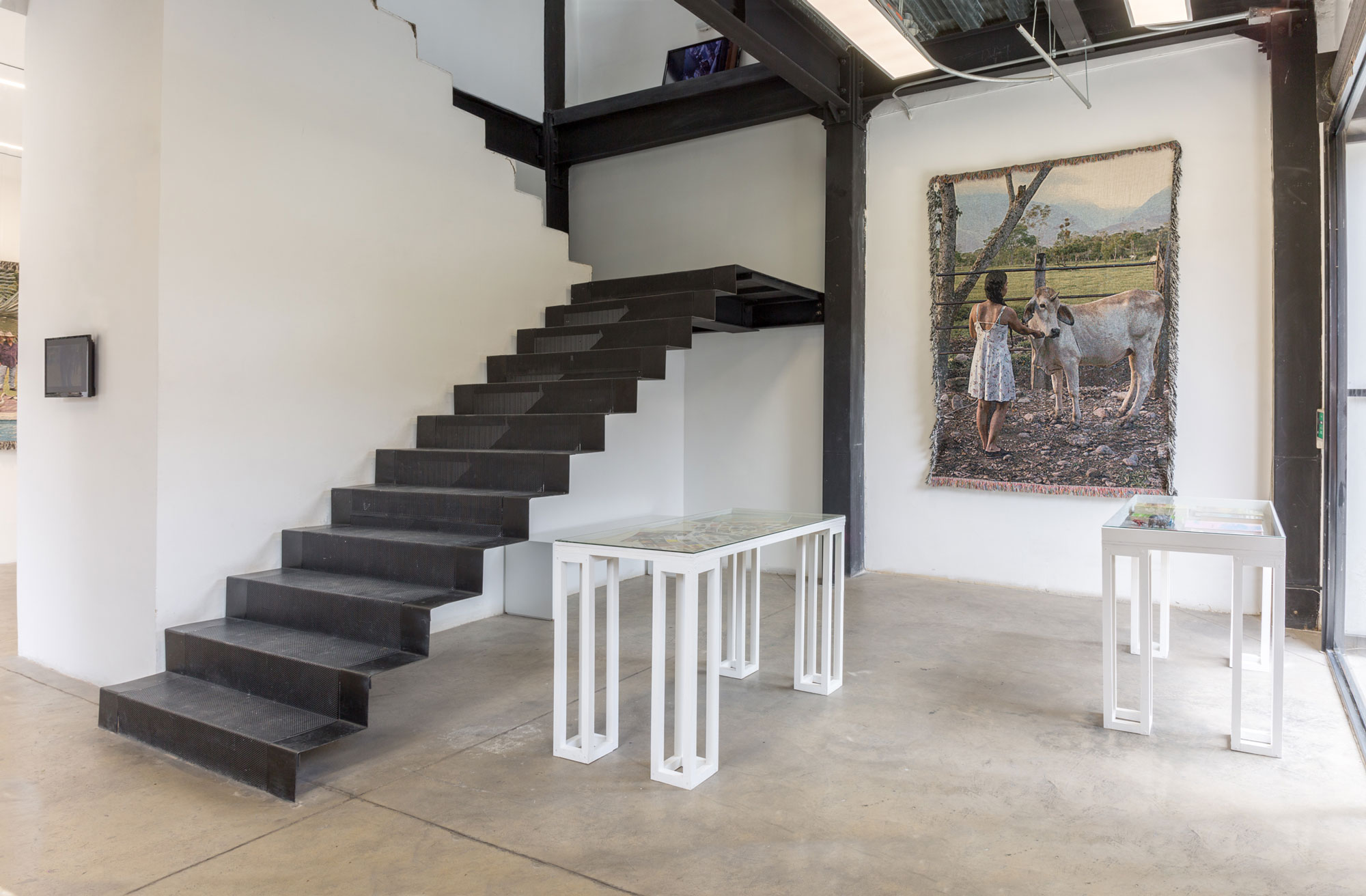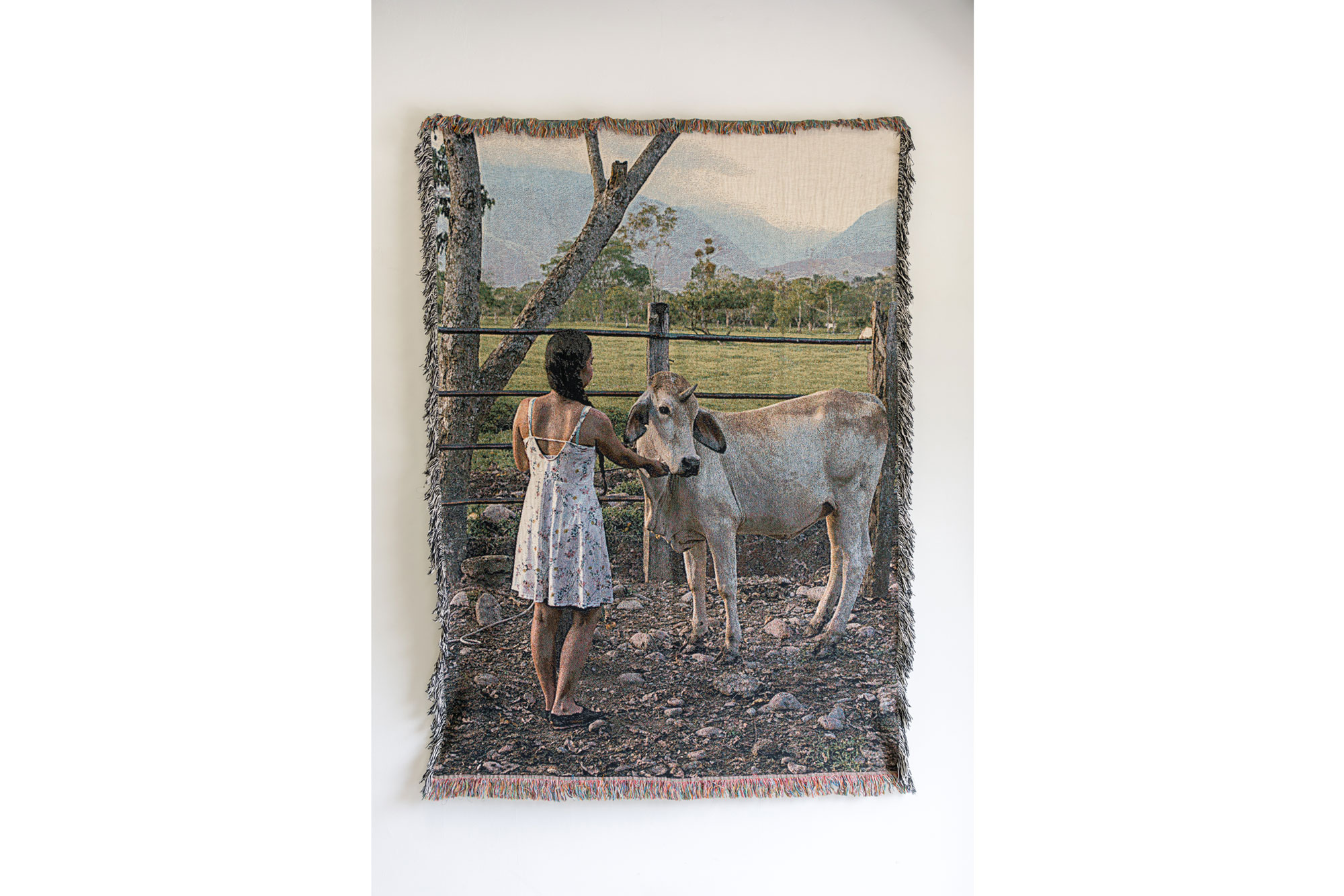 Juan Mejía, Sebastián Carrasco
Curaduría: María Camila Montalvo
Texto: María Camila Montalvo
Agosto - Septiembre 2018
Fotografías: Sebastián Cruz
Juan Mejía , Sebastián Carrasco
Curator: María Camila Montalvo
Text: María Camila Montalvo
August - September 2018
Photographs: Sebastián Cruz
Acá no hablaré de unicornios porque estos son complejos, fabulosos, imaginados, múltiples y variados. Son seres místicos que levitan en lo terrestre y a la vez son libres del poder de la gravedad. Los unicornios son una y muchas cosas a la vez; existen unicornios bueyes, unicornios camellos, unicornios asnos, unicornios caballos, unicornios gacelas, unicornios escarabajos, unicornios peces, unicornios dragones, unicornios bestia de tres patas y seis ojos
[1]
, unicornios dioses, unicornios espíritu, unicornios almas y unicornios rinocerontes. Es por esto que hablaré únicamente del
cuerno único.
El cuerno celeste de la luna[2]
es como una serpiente peligrosa y misteriosa que baja a la tierra y penetra todo lo sólido. Es un símbolo de fuerza, eficacia y ligereza. La fuerza por la dureza de su material, la eficacia por su forma cónica y la ligereza por que es hueco y contenedor como una copa de vino. De esta forma, el cuerno es un cuerpo unificador ya que contiene un carácter masculino de poder y fuerza, y a la vez un carácter femenino como una copa que contiene. Y como es duro y suave a la vez, representa la insuperable fortaleza del espíritu junto con la fuerza vital del hombre.
A lo largo de la historia de todos los rincones del mundo, ha existido este elemento 'cuerno', que se ha transformado de leyenda en leyenda, de mito en mito, que no se sabe de donde proviene pero que se encuentra como un hallazgo mágico o milagroso, cuyas diferentes connotaciones y usos nos llevan de viaje a mundos que son tan ajenos como propios.
En la edad media, el cuerno funcionaba como un símbolo alquímico que representaba el elemento fuego que aludía a la transformación, de una materia a la otra, o de la inconsciencia a la conciencia, hasta convertirse en oro. De hecho, el cuerno era una materialización de la conciencia en sí misma, pues se desplegaba de la
materia prima,
ese conocimiento previo inconsciente al que pertenecen todos los arquetipos que viajan por el mundo. Para la alegoría eclesiástica, su toro primogénito (de la luna) está lleno de su majestad y sus cuernos son como los de un toro salvaje; con todos ellos abate los pueblos. En cuanto al gnosticismo, el cuerno era una sustancia húmeda tan originaria como el agua, ya que como para Tales de Mileto, el agua era el elemento originario que proveía la existencia de los seres mortales e inmortales, de los vivos y de los muertos. Así mismo, Hipólito complementa al decir que a este, el cuerno, están subordinadas todas las cosas ya que contiene en sí mismo el todo.
"¡Sobre la cabeza del ágil antílope se produce un remedio!"
[3]
decían los antiguos Vedas. "(El cuerno) que resplandece allí como una azotea de cuatro alas (lados), con él desembarazamos los cuerpos de toda enfermedad hereditaria"
[4]
pero esta vez, el cuerno se encontraba en un pez,
el pez de Manú
. Según la leyenda, Manú crió a un pez que se fue haciendo cada vez más grande y amarró la cuerda de su barca al cuerno del pez, que terminó por conducirlo, a través del diluvio, hasta una orilla segura. El pez era una encarnación de Vishnú (el dios venerado en el hinduismo).
"El cuerno es como de oro y hueco y de él crecieron millares de ramas; algunas como para un camello, algunas como para un caballo, algunas como para un buey, algunas como para un asno, y al propio tiempo son grandes y pequeñas. Con ese cuerno vencerá y disparará toda la vil corrupción debida a los esfuerzos de perniciosas criaturas"
[5]
dicen los persas, añadiendo que
"
si se alimenta con mucha comida espiritual entonces la jugosidad del líquido alimento corre, a través de los canales del cuerpo, a la orina, y el estiércol es despedido"
[6]
. En el
Talmud
judaico, se cuenta que el unicornio sobrevivió al diluvio porque, como no cabía en el arca, ataron su cuerno desde afuera. En china, los animales con cuerno nacen cuando nace un emperador o un gran sabio y además, cuando una serpiente envenena el agua de una fuente, todos esperan a que se introduzca el cuerno del animal en el agua para así hacer desaparecer la fuerza del veneno.
La copa de los oráculos
es como lo llaman los griegos, quienes al beber de ella, extraen el oráculo pues se les dice lo que se debe llegar a ser con silencio, sin palabras.
En Colombia, se dice que el cuerno poderoso descansa postrado en oposición a un elefante, en los frescos de los techos de la casa de Don Juan de Vargas en Tunja; y se dice también que ha viajado durante años y hasta siglos desde la India como un regalo. Este se destaca por su firmeza y solidez a pesar de que se afirma que "es un animal dócil que muestra tranquilidad cuando un artista se le acerca, es por eso que solo ellos lo pueden ver. Tiene un aspecto muy parecido a una vaca normanda de color marrón con blanco, pues le gusta camuflarse entre el ganado de la región. Suele vivir en las ruinas de una casa de campo donde la naturaleza ha tomado posesión sobre lo que construye el hombre. Por esta razón es considerado de buena suerte encontrarse con él. Su cuerno es pequeño y nace justo en la mitad de la frente. Casi no se ve pues ha venido disminuyendo su tamaño para evitar su principal depredador. Es por eso que se dice que ya casi no tiene los poderes y bondades que tenía el cuerno de sus antepasados. Aun así todavía se le siguen cazando"
[7]
.
Lo común del cuerno, dentro de todos los mitos mencionados en oriente y en occidente, y en Colombia, es que actúa como un símbolo que representa el poder de lo mágico y lo sobrenatural que se revela en el carácter salvaje y animal de la naturaleza; enalteciendo la magnificencia, el poder, la fuerza, el espíritu, el origen, la transformación y la inmortalidad. Y a pesar de que es cierto que ha nacido, se ha transformado y ha viajado de cultura en cultura, no es certero el origen de este cuerno mágico y poderoso. O más bien, el origen más certero podría bien ser el que le aluden los alquimistas medievales quienes señalan que tanto el cuerno como otros arquetipos, nacen de la
materia prima
o inconsciente
,
representado por
una gran montaña o roca, en la que todo está trocado y revuelto, y "la cumbre de esa roca se confunde con su base, y su parte más lejana, y su cabeza es el lugar de su lomo y viceversa".
[8]
Juan Mejía y Sebastián Carrasco se encuentran en
Proyecto Unicornio
donde se reúnen después de procesos que desarrollaron de manera individual y a destiempo, que los llevaron a encontrarse ahora en un punto en común: el
cuerno único
. Por eso, al igual que el incierto origen del cuerno mágico, este proyecto pudo también haber nacido de esa gran montaña o roca, pues un simbolismo tan rico como el del unicornio, debe siempre su existencia a una razón suficiente y nunca a caprichos o juegos fantasiosos. En ella se expresa por lo menos una parcela esencial del alma, esa alma escondida a la que llamamos inconsciente, y el unicornio como el producto de una vida psíquica que hace apenas posible la adquisición de conciencia.
Proyecto Unicornio
es al igual que estas historias contadas, un ejemplo fragmentario de las íntimas e intrincadas relaciones que existen entre los distintos procesos de creación y la naturaleza, relaciones que a su vez influyen sobre el mundo conceptual de las artes y entre procesos de un artista y el otro.
Proyecto Unicornio
es la unión del originario cuerno único, de este espíritu, que mora en todas la criaturas de la vida y en el alma del mundo, en esa montaña o roca alquímica, de donde nacen todos los arquetipos y cuya fuerza transformadora e inmortal, convierte al rinoceronte en unicornio y a la inversa, cuando el animal o bestia, vuelve a ser pesado y es atrapado de nuevo por la fuerza de la gravedad, y más aún, por las siniestras fuerzas de las corralejas que se celebran en Sincelejo. ¡Salud!
---
[1]
Descripción del unicornio en Persia en el
Bundahis
.
[2]
Extraído de un canto de un misterio sobre Osiris citado por Hipólito.
[3]
Sacred Books of the East. P. 15
[4]
Sacred Books of the East. P. 15
[5]
Psicología y alquimia. C.G. Jung. Pág.471.
[6]
C.G. Jung. Psicología y Alquimia. El unicornio en Persia. P. 471
[7]
Mito escrito por Sebastián Carrasco
[8]
C.G. Jung. Psicología y Alquimia. El inconsciente como terreno materno de los símbolos. P. 452.
Here I don't speak about unicorns because, these are complex, fabulous, imagined, multiple, varied, mystical beings, they levitate between the terrestrial and at same time they are free from the gravity power. The unicorns are one and a lot of things at the same time; exist the oxen unicorns, camels unicorns, donkeys unicorns, horses unicorns, gazelles unicorns, dragons unicorns, beast unicorns with 3 legs and 6 eyes

[1]

, gods unicorns, spirit unicorns, souls unicorns, rhino unicorns. That is why I will speak only of the single horn.

The celeste horn of the moon[2]is like dangerous and mysterious snake that comes down to earth and penetrates everything solid. Is a force, effectiveness and lightless symbol. The strength by the hardness of his material, the effectiveness by the conical shape and the lightness because is hollow and container like a glass of wine. For these way, the horn is a unificate body because it contains a masculine character of power and strength, and at the same time a feminine character as a glass of wine that contain. And as it's hard and soft at the same time, it represents the insurmountable strength of the spirit together with the vital force of man.


Throughout the history of all corners of the world, has existed these element "horn", which has been transformed of legend in legend, of myth in myth that is not known where it come from but that is found as a magical or miraculous finding, whose different connotations and uses take us on a journey to worlds that are as alien as their own.


In the middle age, the horn was an alchemical symbol and represented the fire that alluded to the transformation of one matter to the other, or the unconsciousness to consciousness until it becomes gold. In fact the horn was the consciousness materialization in herself as it was deployed from the raw material. These prior unconsciousness knowledge to which all the archetypes that travel the world belong. For the ecclesiastical allegory, his firstborn bull (of the moon) was full of his majesty and his horns are as a wild bull; with all of these beat the towns. With the gnosticism, the horn was a humid substance as original as water, because as for Tales of Miletus, water was the original element that provided the existence of mortal and immortal beings, the living and the dead. Likewise, Hippolytus complements by saying that to this one, the horn, all things are subordinate since they contain in themselves the whole.


"On the head of the agile antelope a remedy is produced"

[3]

said the ancient Vedas. "(The horn) that shines there as a roof of four wings (sides), with him we unpacked the body of all Hereditary disease"

[4]

but this time, the horn was in a fish, the fish of Manú. According to the legend, Manú raised a fish that grew bigger and bigger and tied the rope of his boat to the horn of the fish that ended up driving it, through the flood, to a safe shore. The fish was an incarnation of Vishnú (the veneered god in the Hinduism).


"The horn was like gold and hollow and thousands of branches grew from it some like a came, some like for a horse, some like for a oxen, some like for a donkey and the same time was big and little. With this horn he will conquer and shoot all vile corruption due to the efforts of pernicious creatures"

[5]

say the Persians, adding that "if it is fed with much spiritual food then the juiciness of the liquid food runs, through the body's channels, to the urine, nd the manure is fired."

[6]

In the Jewish Talmud, is told that the unicorn survived the flood because, as it didn't fit in the ark, so they tied his horn from outside. In China, the animals with horn born when an emperor or a great sage is born and besides, when a snake poisons the fountain water, everyone wait for the horn of an animal to introduced in the water, so that the force of the poison disappears. The oracles cup is what the Greeks call it, who, drinking from it, extract the oracle then they are told what they should become with silence, without words.


In Colombia, it is said that the powerful horn rest in opposition of the elephant, in the frescoes on the roof in the Don Juan de Vargas home in Tunja; also said that it traveled for years up to centuries since India as a gift. This stand out for his firmness and solidity despite the fact that it is said that " it is a docile animal that shows tranquility when an artist approaches, this is why only they can see it. It have an aspect that looks very much like a Norman cow with brown and white, it as to camouflage itself among the region cattle. Usually lives in the ruins of a country house where nature has taken possession of what man builds. For these reason is considered of good luck founded with him. His horn is small and birn right in the middle of the forehead. It is almost unseen since it has been decreasing in size to avoid its main predator. That is why it's said that he has almost no powers and benefits that had the horn of his ancestors still they are still hunting".

[7]




The common of the horn, within all the myths mentioned from East to West, and in Colombia, is that this acts as a magical and supernatural symbol that reveals in the wild and animal nature character; exalting the magnificence, the power, the transformation and the immortality. And perhaps it's true that it has born, has transformed and traveled from culture to culture, it is not certain the origin of this magic and powerful horn. Or rather the most certain origin could well be that alluded to by medieval alchemist who point out that both the horn and other archetypes, born from the raw material or unconscious, represented by a large mountain or rock, in which everything is changed and stirred, and " the top of this rock is confused with its base, and its farthest part, and its head is the place of its back and vice versa".

[8]




Juan Mejía and Sebastían Carrasco founded in Unicorn Project, where they find themselves after process that they developed in individual form at the wrong time, that led them to find now a common point: the single horn. For this, like the uncertain origin of the magic horn, this project can also be born in this big mountain or rock for a symbolism as rich as the horn, must always exist to sufficient reasons and never to whims or fantasy games. In her is expresses at least one essential plot of the soul, that hidden soul we call unconscious and the unicorn as the product of a psychic life that makes the acquisition of consciousness barely possible. Unicorn Project it is like these stories told, a fragmentary example of the intimate and intricate relationships that in turn influence the connected world of the arts and between processes of one artist and the other.

Unicorn Project is the union of the single originally horn, of this spirit, that relies in all life creatures and in the world soul, in this mountain or alchemist rock, in where born all the archetypes and his transformative and immortal force, converts the rhino in horn and inverse, when the animal or beast is heavy again and it is caught again by the gravity force, and most, by the sinister forces of the Corralejas celebrated in Sincelejo. Cheers!

---
[1]
Description of a unicorn in Persia in Bundahis.

[2]
Extracted from a song of a mystery about Osiris quoted by Hippolytus.

[3]
Sacred Books of the East. P. 15

[4]
Sacred Books of the East. P. 15

[5]
Psychology and Alchemy. C.G. Jung. Page 471

[6]
C.G. Jung. Psychology and Alchemy. The unicorn in Persia. P. 471

[7]
Myth written by Sebastián Carrasco

[8]
C.G. Jung. Psychology and Alchemy. The unconscious as maternal land of symbols. P.452
Calle 75a #23-10 entrada por la carrera 2 3 Barrio San Felipe - Bogotá Colombia
Tel. +57 1 7355923 / info@adorno-liberia.com
Exposición actual: En Aguante.
Hija de Perra, ektor garcia y Jota Mombaça.
Un proyecto curatorial de Julia Eilers Smith.

Horario: Martes a Viernes de 11am a 5pm - Sábados de 12 a 4pm