Exposiciones/

Exhibitions

2018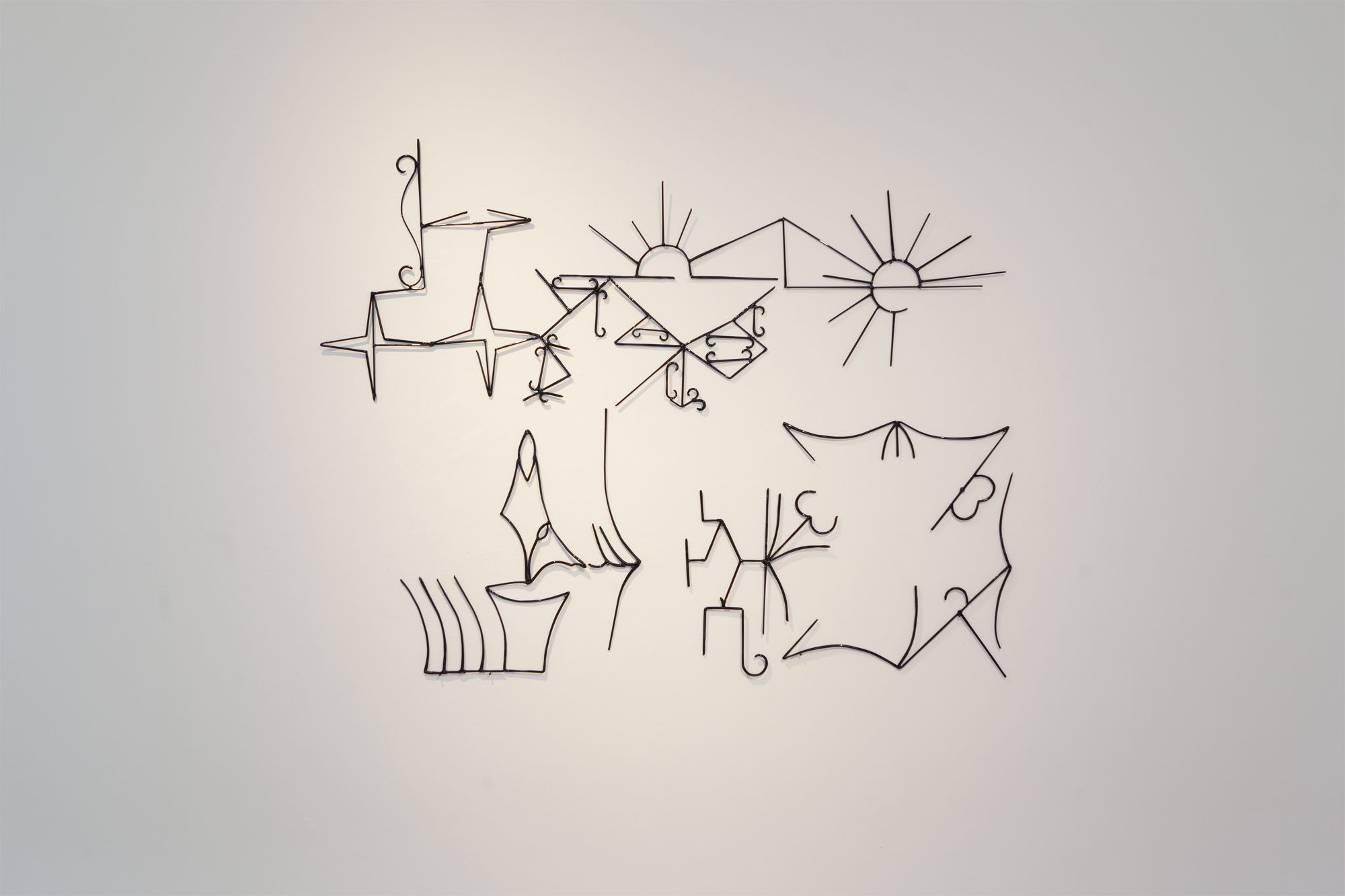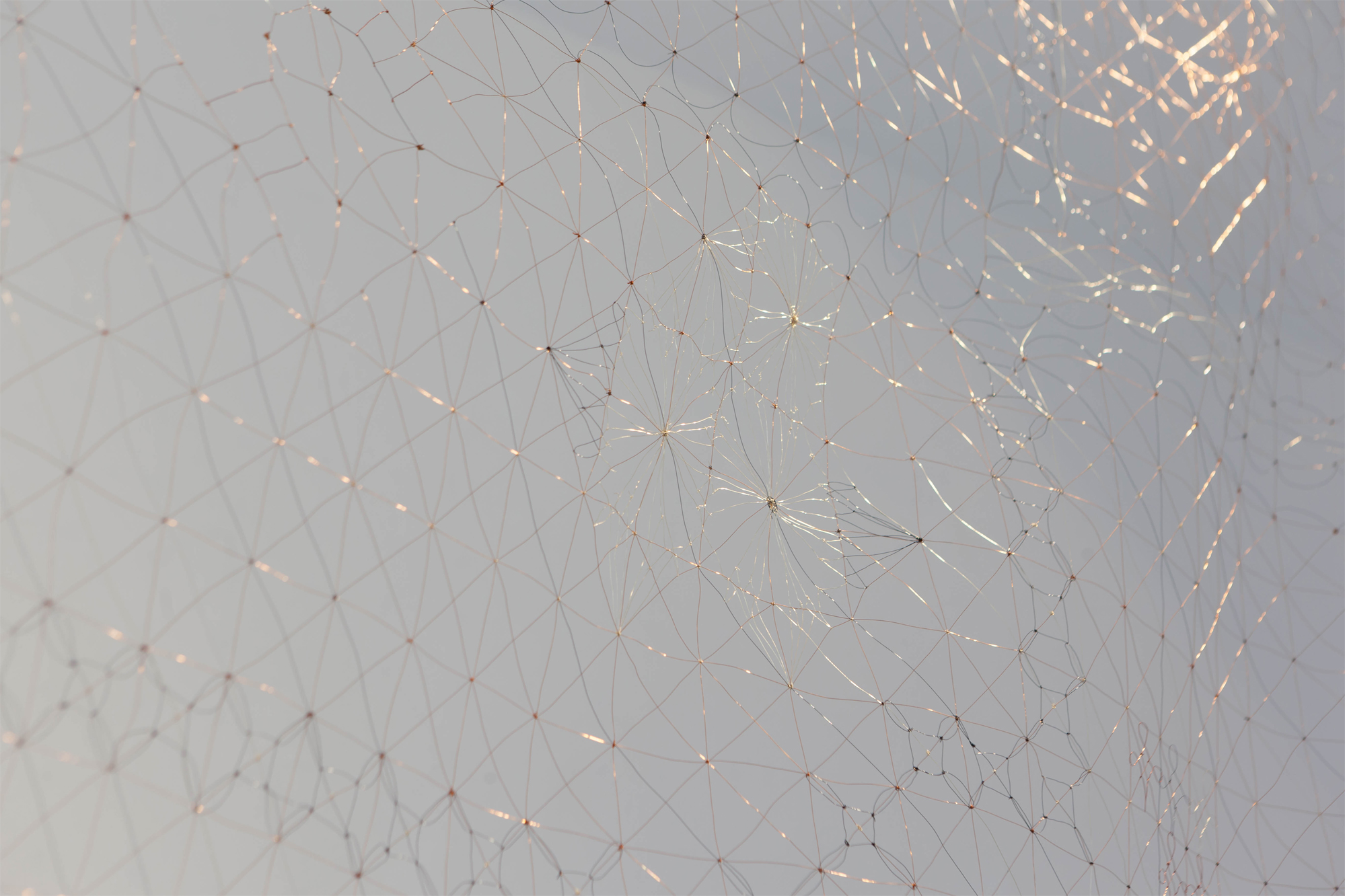 Luz Lizarazo, María Alejandra Torres
Curaduría: María Camila Montalvo
Texto: María Camila Montalvo
Octubre - Noviembre 2018
Fotografías: Santiago Pinyol
Luz Lizarazo, María Alejandra Torres
Curator: María Camila Montalvo
Text: María Camila Montalvo
October - November 2018
Photographs: Santiago Pinyol
Bienvenida, bienvenido. Siga, que detrás del paramento está el hogar. Detrás de las rejas que anuncian la llegada, detrás de esas cortinas teñidas, suscita una vida vibrante de los mundos interior y exterior. Protegido y abrigado, está este fuego, el calor del vientre que llamamos hogar. El hogar donde el tiempo junta el espíritu de lo femenino que mezcla mente e instinto, donde la vida profunda de lo femenino es el fundamento de la vida corriente. Es el hogar de la hacedora, la creadora, la inventora. Los navajos solían llamarla Na'ashjé'ii Asdzaa, que significa "la mujer araña". Na'ashjé'ii Asdzaa es la que teje los hilos, y así mismo, es la que teje el destino de los seres humanos, los animales, las plantas y las rocas. Es conocida como el símbolo de las artes textiles que se muestra joven de día pero anciana en la noche, porque simplemente representa la naturaleza inteligente tejedora. Esa naturaleza inteligente que nos obliga a afinar el ojo para poder contemplar la sublime belleza de ese tejido sutil.
Sutil y poderoso, el tejido funciona a la vez como una manta que abriga y da calor, y como un colchón que recibe y permite descansar. Y ahí, en el último rincón de este hogar, está la cama encendida en hilos de bronce que brillan como el sol, y que como el sol, da calor.
La galería entonces se convierte en un
lugar sagrado de feminidad exaltada, que como un paramento o como una hoguera mística, lucha con todas sus fuerzas para conservarlo. Y desde ese hogar, la mujer araña contempla el paisaje desde la ventana, con la mirada penetrante de su poder observador, ella teje y repite y teje, con el mismo esmero con que se cuida un amado jardín. Es el hogar de la profunda psique femenina al que siempre regresamos. Mientras tanto, ella sigue.

María Camila Montalvo.


Welcome. Go ahead, that behind the facade it's the home. Behind the bars that anounce the arriving, behind those dyed curtains, arouses a throbbing life from the inner and outer world. Protected and warm, is this fire, the heat from the womb that we call home. The home where time joins the feminine spirit that mixes mind and instinct, where the deep life of the feminine is the basis of current life. Is the home of the girl who makes, that creates, that invent. The Navajos used to call it Na'ashjé'ii Asdzaa, that means "the woman spider". Na'ashjé'ii Asdzaa, she is the one that knit the threads, and in the same way, she is the one that knit the destination of human beings, animals, plants and rocks.
She is well known as a the textil arts simbol, that shows herself joung in day but old in night, simply because she represents the inteligent kniting nature. That inteligent nature that forces us to tune the eye in order to contemplate that subtle knit's sublime beauty.
Subtle and powerfull, the knit works at the same time as a blanket that shelters and gives heat, and as a mattress that recives and allows to rest. And there, in the last corner of this home, is the the bed lighted up in bronze threads that shine like the sun, and as the sun, it gives heat. Then the gallery turns into a sacred place of exalted femininity, that as a facade or a mistical bonfire, it fights with all its strength to preserve it. And from that home the woman spider contemplates from the window the landscape, with the penetrating gaze of her observing power, she knits and repeats and knits, with the same effort as to take care of a beloved garden. It's the home of the deep femenine psyche, the one where we always return. Meanwhile, she continue.



María Camila Montalvo.


Calle 75a #23-10 entrada por la carrera 2 3 Barrio San Felipe - Bogotá Colombia
Tel. +57 1 7355923 / info@adorno-liberia.com
Exposición actual: En Aguante.
Hija de Perra, ektor garcia y Jota Mombaça.
Un proyecto curatorial de Julia Eilers Smith.

Horario: Martes a Viernes de 11am a 5pm - Sábados de 12 a 4pm