Exposiciones/

Exhibitions

2020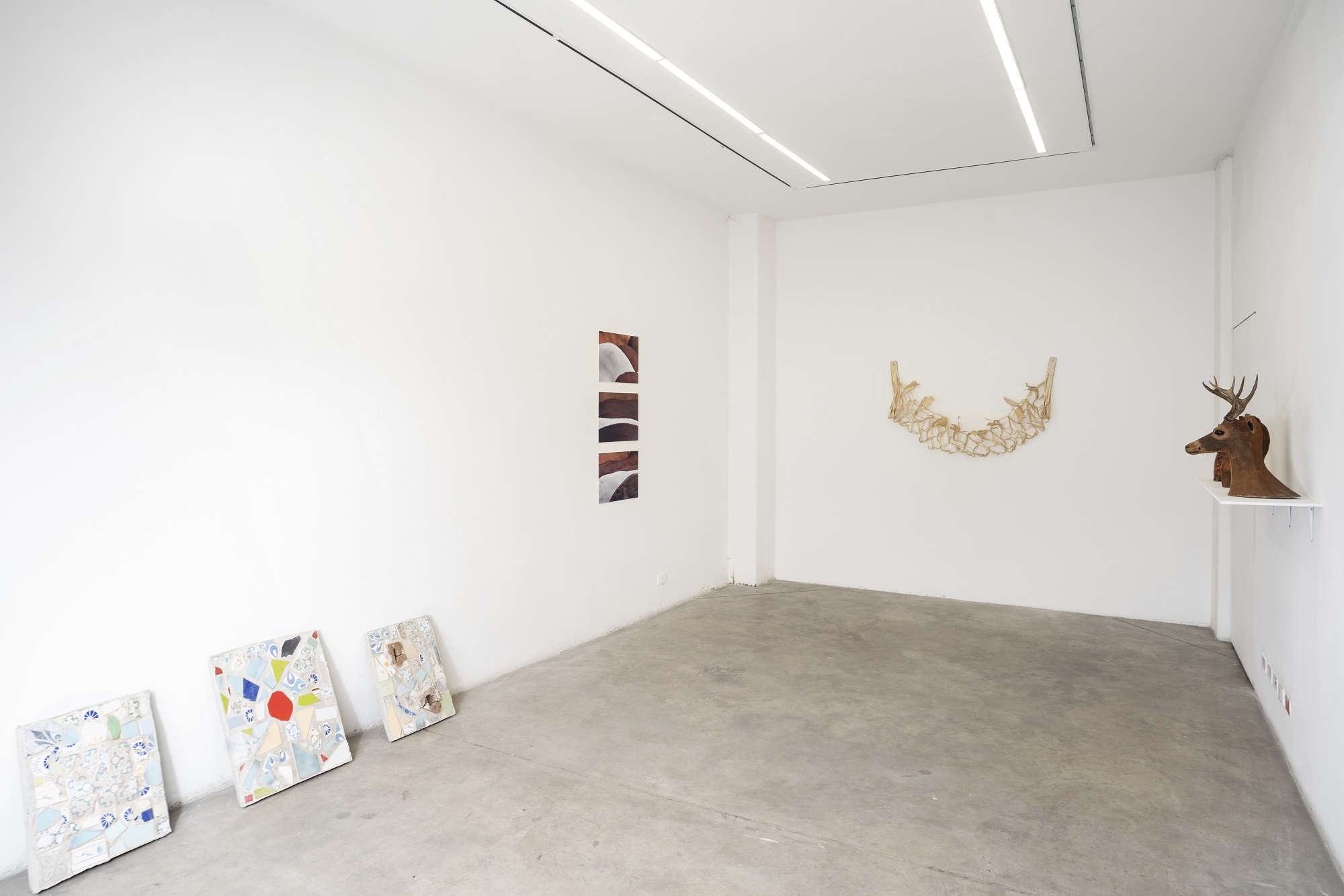 Murciélago no es pájaro, ni panela es azúcar

Artistas jóvenes del Llano

Bat is not bird, nor panela is sugar
Young artists form Llano
Luisa Valderrama, Adrián Paipilla, Pablo Araque,
Floro Vargas.
Curaduría: Sebastián Carrasco
Texto: Sebastián Carrasco
Marzo- Abril 2020
Fotografías: Sebastián Bright
Luisa Valderrama, Adrian Paipilla, Pablo Araque,
Floro Vargas.
Curatorship: Sebastián Carrasco
Text: Sebastián Carrasco
March - April 2020
Photographs: Sebastián Bright
Murciélago no es pájaro, ni panela es azúcar

El título es un dicho popular de la cultura llanera que se refiere al origen de las cosas, siempre en contraposición a otras. Habla de las copias "chiviadas" y el estatus que representa cada objeto; es una relación de comparación que se hace entre cosas semejantes.

Tanto el murciélago como la panela, en este dicho, son en sí mismos un signo de lo local. En este sentido, la metáfora plantea una dualidad entre lo local y lo foráneo tendiendo a contrastar la cultura en la región con las in uencias quellegan al territorio desde otras partes. Enfatiza en los elementos que construyen la identidad cultural del territorio llanero teniendo como punto de referencia objetos y seres que habitan el paisaje.

Los objetos en sí mismos pueden hablar de lo que es el territorio y como las personas interactúan con las materias primas y elementos que ofrece el paisaje. La muestra reúne algunas connfiguraciones de la identidad llanera vista a partir de los objetos utilitarios y de decoración; cada una de las piezas habla de esas relaciones entre objeto-cultura-paisaje.

El uso de la madera como uno de los principales materiales de construcción de objetos y viviendas da paso también a la creación de imágenes a partir de la misma. En ese sentido, la talla en madera es una práctica común en la región. El trabajo de Floro Vargas es representativo en cuanto a esta relación con el paisaje, tanto el material como el animal representado tienen un irrefutable vínculo con la identidad cultural de la región.

Los elementos utilizados en el trabajo del Llano, como el rejo o la campechana, hacen parte del abanico de objetos que le confieren una identidad a esta región de Colombia. Luisa Valderrama explora el hacer casi ritual de la construcción de estos instrumentos, que encuentran una nueva forma en la propuesta escultórica de la artista.

En las fotografías de Pablo Araque se presenta de una manera analógica la relación entre paisaje y cultura. Relaciona la sabana y el pie de monte a través de una de las prácticas culturales y económicas más conocidas en la región. La ganadería da forma a los modos de vida en el territorio; esta es un eje central en las configuraciones de identidad en los habitantes de la zona.

Los departamentos que hacen parte del territorio han sido constantemente abatidos por la violencia en el país. Su paisaje se ha transformado constantemente; una gran parte de sus ciudades, pueblos y municipios han sido fundados y refundados constantemente gracias a los procesos de desplazamiento forzado que han sucedido. Un ejemplo de estos procesos puede ser la fundación del municipio de Aguazul en Casanare. El actual Aguazul fue fundado en 1954 después de haber sufrido varios desplazamientos que hicieron que los sobrevivientes de las imposiciones violentas se desplazaran por el pie de monte re-ubicando el municipio constantemente desde épocas de la colonia. Este continuo movimiento y reubicación ha hecho que el pueblo tenga una constante pérdida de memoria y de recuerdos.

El trabajo de Adrián Paipilla busca recuperar una memoria sensible del pueblo. Es un estudio de los colores y decoraciones del antiguo Aguazul, buscando así restaurar esa imagen del pueblo en la memoria de sus habitantes. A partir de la recolección de lozas de azulejos del cementerio del pueblo (que están hechas a partir de las mismas losas que se encontraban en las casas) Adrián construye mosaicos compuestos de los colores tradicionales del pueblo.

La muestra también articula un video mono canal hecho con Argemiro Piraban, quien es conocido por su profundo conocimiento en el trabajo del Llano. Este da cuenta del interés por las prácticas llaneras tradicionales en la investigación realizada para el proyecto curatorial.



Bat is not bird, nor panela is sugar

The title is a popular saying from the llanero culture that refers to the origin of things, always in contrast to other things. It talks about the 'chiviadas' (fake) copies and the status that each object represents; is a relationship of comparison made between similar things.

In this saying, both the bat and the panela are by themselves a sign of what is local. In this sense, the metaphor raises a duality between the local and the foreign, tending to contrast the culture of the region with influences that arrive at the territory from elsewhere. It emphasizes elements that build the llanero territory's cultural identity, taking objects and beings that inhabit the landscape as a reference point.

The objects by themselves can speak about what the territory is and how people interact with raw materials and elements offered by the landscape. The exhibit gathers some configurations of llanero's identity seen from utilitarian and decorative objects; each piece speaks about these relationships between object-culture-landscape.

The use of wood as one of the main building materials for objects and houses also gives way to the creation of images made of it. In this sense, wood-carving is a common practice in the region. The artwork of Floro Vargas is representative of this relation with the landscape. Both the material and the animal represented have an irrefutable link with the cultural identity of the region.

Elements used for the fieldwork in El Llano, as the 'rejo' (leather rope) or the 'campechana' (leather hammock), belong to a range of objects that confers an identity to this Colombian region. Luisa Valderrama explores the almost ritual-making of these instruments, which find a new form in the sculptural proposal of the artist.

In Pablo Araque's photographs, the relationship between landscape and culture is presented in an analogic way. He relates the savanna and the piedmont through one of the most known cultural practices of the region. The cattle raising gives shape to the ways of life on the territory; this is a central axis in the identity configurations of the inhabitants of the area.

The provinces that are part of the territory have been constantly struck down by the violence in the country. Its landscape has been transformed constantly; a big part of its cities, towns and villages have been founded and refounded constantly thanks to the processes of forced displacement that have happened there. An example of these processes could be the foundation of the village called Aguazul, in Casanare. The current Aguazul was founded in 1954 after having suffered multiple displacements that made survivors of violent impositions move through the piedmont, relocating the town constantly since the times of the Spanish colony. This continuous movement and relocation resulted in people suffering a constant loss of memory and remembrances.

Adrián Paipilla's artwork seeks to recover a sensible memory of the village. It is a study of the colors and decorations from the old Aguazul, looking forward to restoring the image of the town on the memory of its inhabitants. Through the recollection of tiles from the cemetery (that were made from the same tiles found in the houses) Adrián builds mosaics composed by the traditional colors of the village.

The exhibit also includes a mono channel video made with Algemiro Piraban, who is known for his deep knowledge in the works done in El Llano. It shows the interests for 'llanero's' traditional practices in the investigation for the curatorial project.











¡Cerramos!

info@adorno-liberia.com
We're closed!