Exposiciones/

Exhibitions

2016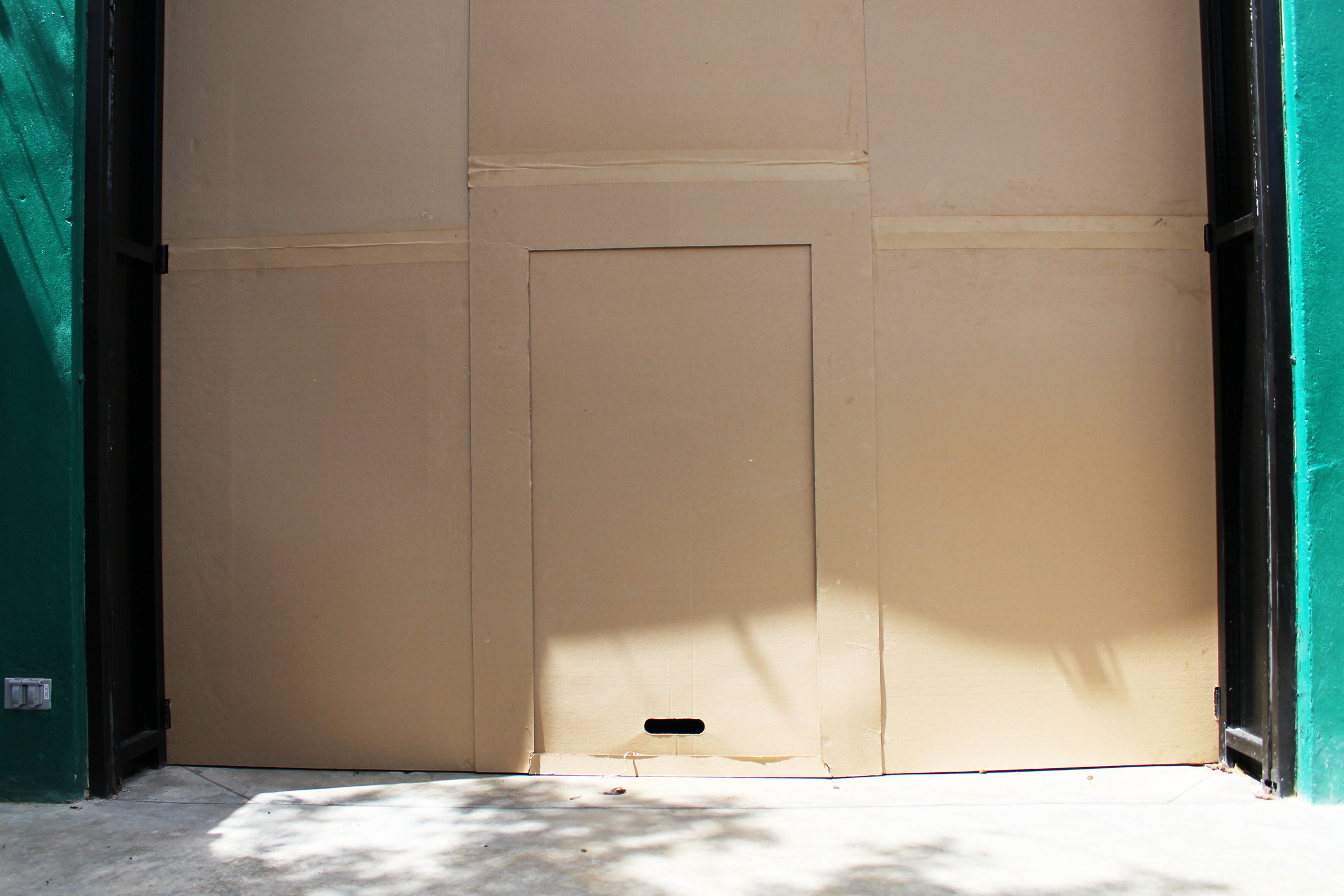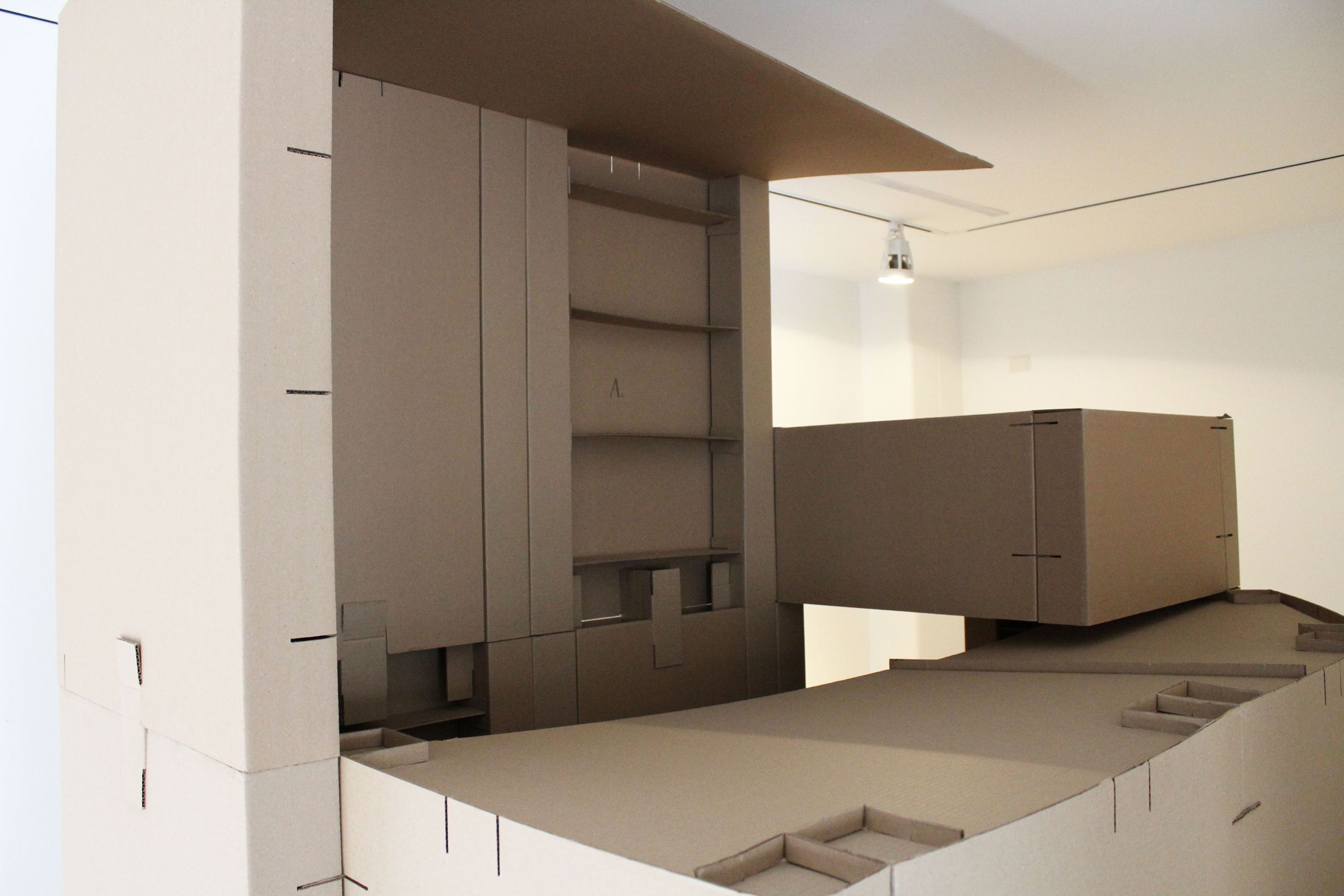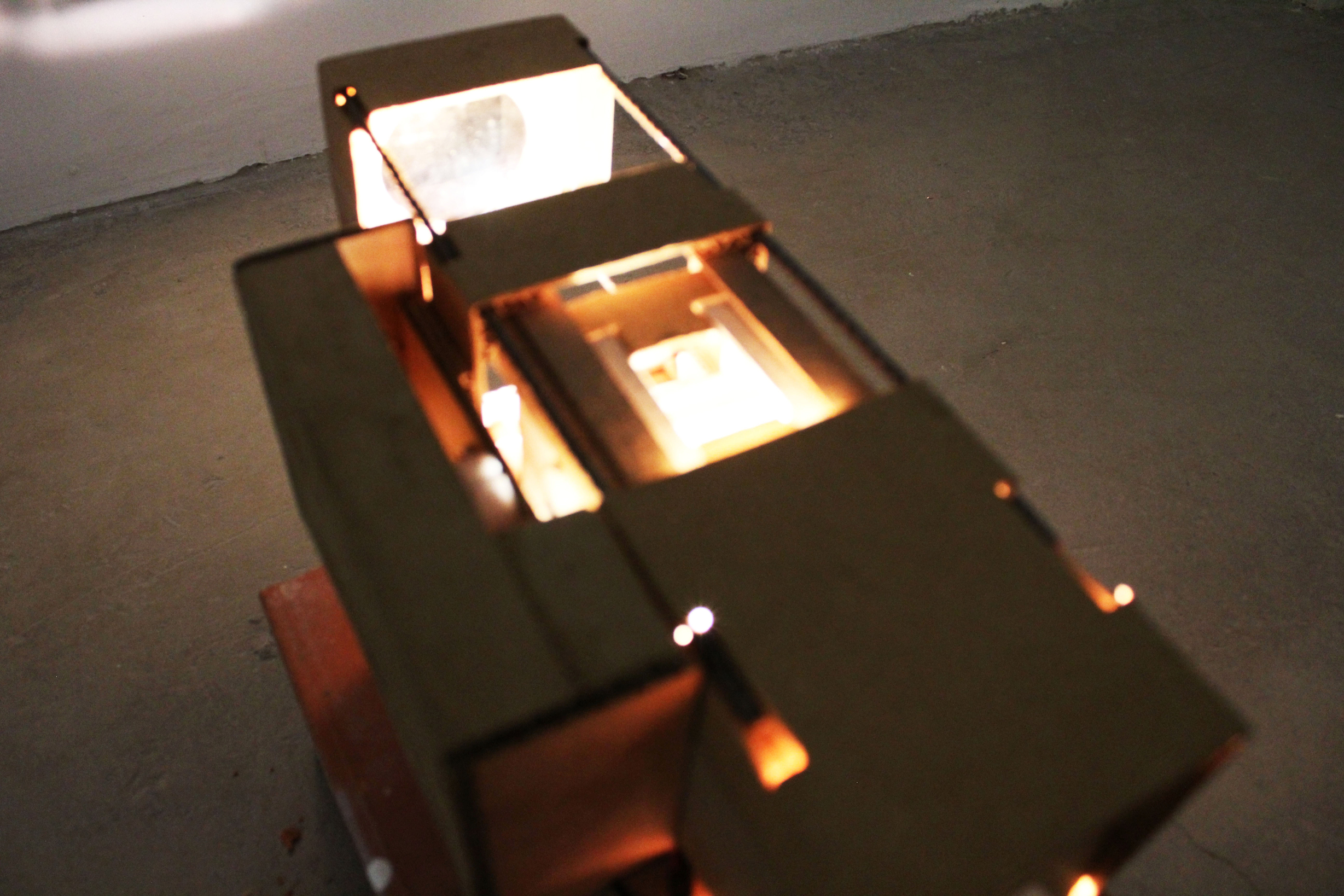 Jorge Barragán
Curaduría: María Camila Montalvo, Inés Arango
Texto: Inés Arango
Agosto-Septiembre 2016
Jorge Barragán
Curators: María Camila Montalvo, Inés Arango
Text: Inés Arango
August-September 2016
En óptica, la imagen real es la que aparece sobre una superficie donde convergen rayos de luz y definen la forma de un objeto proyectado. Ese objeto es material, pero no del todo, pues depende de algo más: de alguna fuente de luz o de un ojo. Las maquetas y los bocetos también dependen de algo más, a saber, de la idea original y de la culminación de un objeto real que todavía es un proyecto.

En "Imagen Real" hay dos series de obras: una gran estructura penetrable en cartón (piso 1) y varios proyectores del mismo material, hechos a mano y en serie (piso 2). Estas piezas se insertan de lleno en el limbo entre idea y culminación- en donde también están los bocetos y las maquetas- a causa de los materiales con los que están hechas. No se puede pensar, sin embargo, que las piezas encajan perfectamente en ese limbo, pues cada una, a su manera, desafía, resalta y pone en cuestión su dependencia en lo ideal.

El penetrable, aunque de cartón, niega su referencia a la maqueta, negando su material por su tamaño; se vuelve obra en sí, pieza válida por sí misma, construcción finita, sólida, y… penetrable. De la misma manera, las proyecciones- distorsionadas, desenfocadas y en constante movimiento- realzan la naturaleza ideal de lo que proyectan, negándose a pasar del todo a un plano concreto.

Se puede pensar en estos objetos como contenedores de contradicciones que, deliberadamente, se salen de su algoritmo genético.


In Optics, theReal Image is the one that appears over a surface where light rays converge and define the form of a projected object. This object is material, but not entirely, because it depends on something else: a light source or an eye. The mockups and sketches also depend on something else, namely, of the original idea and the culmination of a real object that's still a project.

In "Real Image" there's two series of works: a large penetrable cardboard structure (first floor) And, several projectors with the same material, handmade and in serie (second floor) . These pieces are inserted fully in the limbo between idea and culmination- where there also are the mockups and sketches- due to the materials with which they're made of. It cannot be thought, nevertheless, that the pieces fit in perfectly on that limbo, because each one, on its own way, challenges, highlights and put on in question its dependence on the ideal.

The penetrable, although made of cardboard, denies its reference to the mockup, denying its material because of its size; it becomes work itself, valid piece itself, finite construction, solid, and... penetrable. In the same way, the projections - distorted, unfocused and in constant movement- exalt the ideal nature of what it projects, refusing to pass entirely to a concrete plane. It can be thought of these objects as containers of contradiction that, deliberately, get out of its genetic algorithm.





¡Cerramos!

info@adorno-liberia.com
We're closed!