Exposiciones/

Exhibitions

2019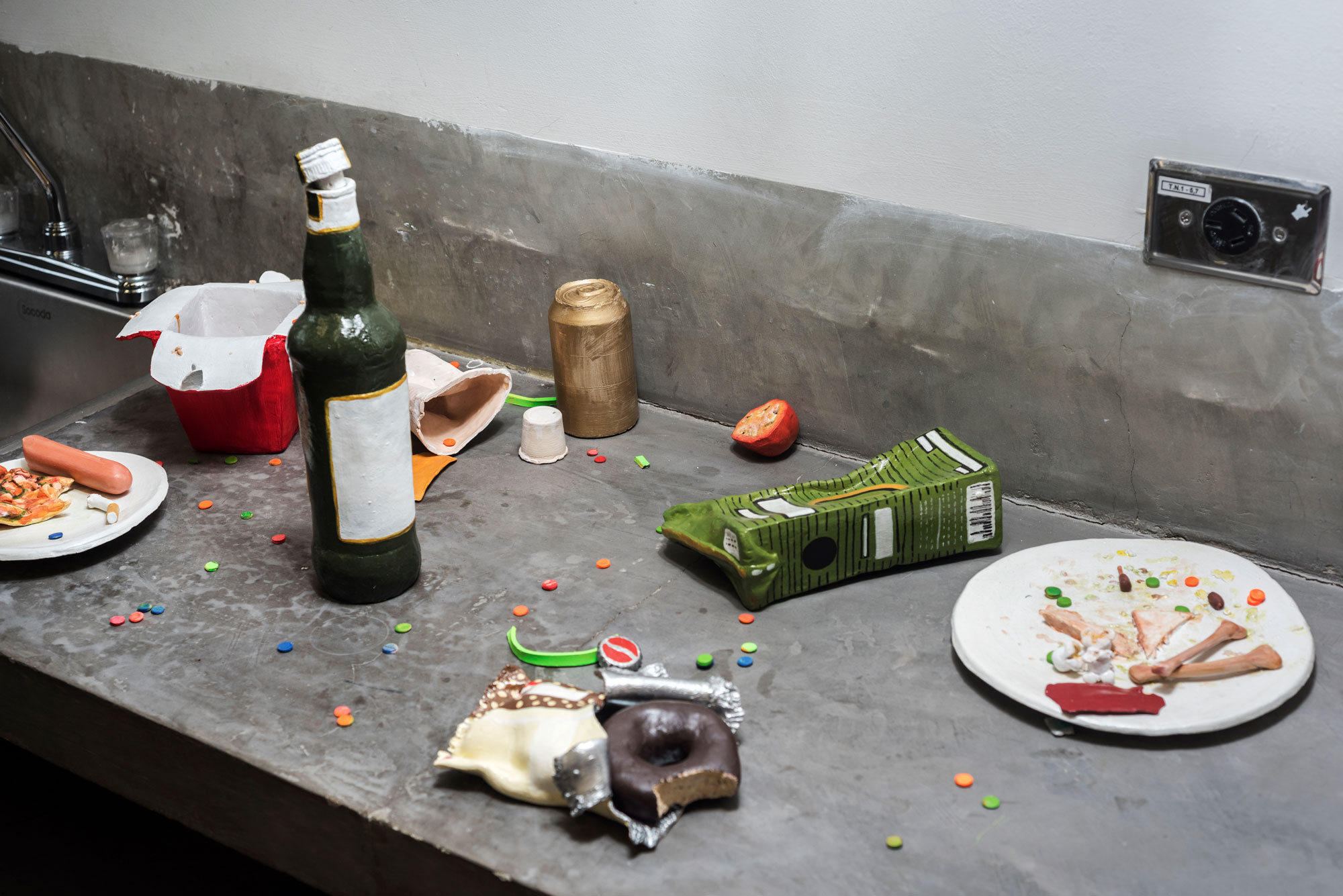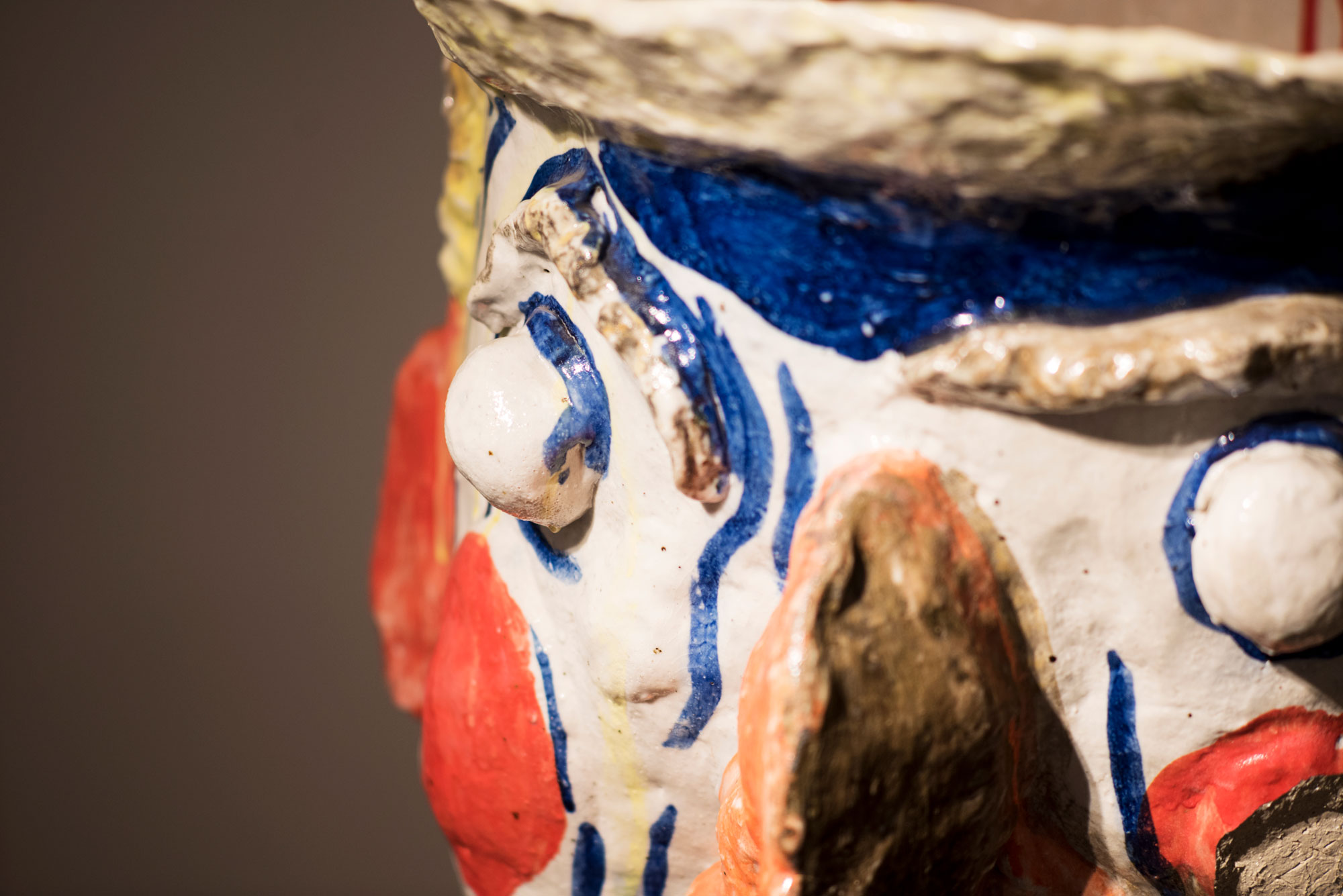 Dick El Demasiado, Francisco Toquica
Curaduría: Carolina Cerón
Texto: Carolina Cerón
Septiembre - Octubre 2019
Fotografías: Sebastián Bright
Dick El Demasiado, Francisco Toquica
Curator: Carolina Cerón
Text: Carolina Cerón
September - October 2019
Photographs: Sebastián Bright
Hablemos por Sky


Aquel preguntó si querían hacer parte de la explosión que no termina, al lado de las torres gemelas del jenga armado. Es basura, le dijo. ¿Es basura?, pero ¿Qué es la basura? tú te estás poniendo muy folklórico con toda esa preguntadera, le dijo mientras sonaba la canción El Mono de Wilfrido Vargas, -¡Ayyyyy! Es que la ambición, Lo tenía cegado, Camarote o cama tenía, Más quería y quería- cantaba el radio. "Ya sabemos que todo lo afilado tiene su brillo"

En una vasta llanura bajo un amplio cielo gris sobre un terreno que algún día fue fértil se erige una construcción. En ella, una exposición. La exposición es el lugar donde todas se contestan en una sola. En el segundo piso, un cóctel masculino de dos jarras con las caras de Pinochet y Kissinger sobre un pedestal a un metro de altura, con faldas folclóricas ajustadas al cuello. Ellos son todos los dictadores que se contestan en un solo dictador convertido en jarra con pollera y que susurran en medio de la basura. Un hombre humilde pero exagerado les dijo animado desde el primer piso: "Pueblo mío, ¿quieren noise?" A su lado, toda la basura del mundo, porque a todo el mundo le gusta la basura, se contesta en esta sola basura del mundo en cerámica para comprar, en un lugar que no es el lugar, es un templo que es todos los templos y ninguno a la vez. Hay dos dibujos de collages turbios y difusos, que son todos los collage turbios y difusos que alguna vez fueron creados, llenos de desinformación por saturación. Hay dos banderas que son todas las banderas, hechas sobre cartón que se utiliza en los supermercados al transportar botellas, lo que explica los círculos y la superficie con relieves, que se parece a cosas de circo o de sindicatos. En el segundo piso dos jengas que se parecen a las torres gemelas junto a la imagen en movimiento de un explosivo provocando un fuerte estruendo. Una explosión se repite pero nunca se ve que explotó. Solo que algo explota. Esta explosión son todas las explosiones del mundo, todas las que han sucedido en una sola explosión, solo una y esos edificios son todos los edificios en uno solo.

El texto de esta exposición se amplía en el libro "Es raro que la basura sea frágil", de Carolina Cerón e incluso en la contracara, la novela "Las Pinochetas" de Dick Verdult, editado por Caín Press.




Let's talk by Sky
He asked if they wanted to take part of the of the never ending explosion, besides the twin Jenga towers. It's garbage, he told him. Is it garbage? But what is garbage? You're getting very folksy with all that questioning, he said whilst the song "El Mono" by Wilfrido Vargas sounded on the background, -¡Ayyyyy! Es que la ambición, Lo tenía cegado, Camarote o cama tenía, Más quería y quería (Ayyyyy! Greed blinded him. Bunk or bed he had. More and more he wanted)- sang the radio. "We already know that everything sharp has its shine"

In a long plain under a wide gray sky, on a terrain that was once fertile, a construction is erected. In it, an exhibition. This exhibition is the place where all exhibitions are gathered into one. On the second floor, a male cocktail of two jars with the faces of Pinochet and Kissinger upon a one meter high pedestal, with tight-necked folkloric skirts. They are all the dictators that are gathered in only one dictator turned into a jar with a "pollera". They are the dictators who whisper amidst the garbage. A humble but exaggerated man asked them from the first floor "My people, do you want noise?". Besides him all the garbage of the world, because everybody likes garbage, gathered in this one world garbage made of ceramic for sale, in a place which is not the place: it is a temple, which is all the temples and none, at the same time. There are two messy and fuzzy collages, which are all the messy and fuzzy collages that once were created, full of misinformation due to their saturation. There are two flags, that are all the flags, made of cardboards used in supermarkets to keep bottles, which explain the circles and the textured finish of the surface, so they look like circus and trade union stuff. On the second floor two Jenga towers, that look like the Twin Towers, next to a motion picture of explosive material which causes a loud boom. An explosion that repeats itself, but we are unable to see what explodes. We only can see that something explodes. This explosion are all the explosions of the world, all the explosions that have occurred gathered into one, just one, and those buildings are all the buildings merged into one.

The text of this exhibition is expanded in the book "Es raro que la basura sea frágil", by Carolina Cerón and even in the counterpart, the novel "Las Pinochetas" by Dick Verdult, edited by Caín Press.
¡Cerramos!

info@adorno-liberia.com
We're closed!