Publicaciones/

Publications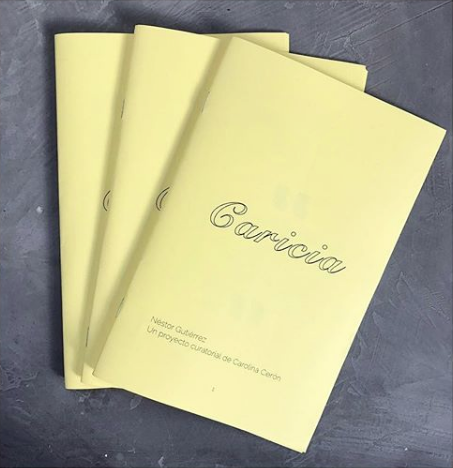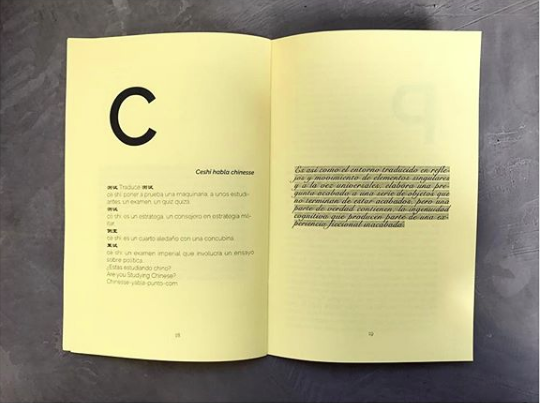 Medidas: 22 x 14 cm.
Número de páginas: 24
Parte de: Néstor Gutiérrez: Caricia / Febrero - Marzo Diseño: Carolina Cerón
Textos: Carolina Cerón (curadora de la muestra)
Size: 22 x 14 cm.
Number of pages: 24
Part of: Néstor Gutiérrez: Caricia / February - March 2017
Design: Carolina Cerón
Texts: Carolina Cerón (curator of the exhibit)
"La exposición 'Caricia' o el acto de establecer un contacto delicado, expande las posibilidades del objeto encontrado en una inacabada reflexión que complejiza la relación entre un gesto emocional y la manifestación del control. Vestigios de mobiliario y otros objetos cotidianos como frutas, bolsas y fotografías se configuran en una especie de estructuras totémicas que saben confiar en la habilidad de sospechar. La muestra plantea la resemantización de estos objetos produciendo una sensación de suspenso, tanto de las formas ensambladas como de las narrativas sugeridas. Suspenso que emerge entre un campo de miradas que acarician a su objeto, deseándolo y controlándolo al mismo tiempo".

Esta publicación es oscila entre la apropiación de textos curatoriales convencionales y la mitificación de distintos objetos exhibidos en la muestra. Diferentes ficciones y personajes aparecen en los relatos de este librito, que se recrean a través de escenas imaginarias e inspiradas en las piezas que componen la exposición.

"The exhibition ´Caricia' (Caress) o the act to stablish a delicate contact, expanding the possibilities of the found object in a unfinished reflection which makes the connection between an emotional gesture and the manifestation of control more complex. Remains of furniture and other common objects as fruits, bags and photograph are configured in a kind of totemic structures who know in the ability of suspect. The exhibition raises the resematization of those elements produce a sensation of suspense, both of assembles forms and suggested narratives. Suspense that emerges between an area of looks that caress his object, wishing it and controlling it to the same time"

This publication varies among the ownership of conventional curatorial text and the mythologisation of different objects exhibited in the showing. Different fictions and characters appear in the stories of this booklet, which recreate through imaginary scenes and inspired by the pieces of the showing.

¡Cerramos!

info@adorno-liberia.com
We're closed!