Exposiciones/

Exhibitions

2018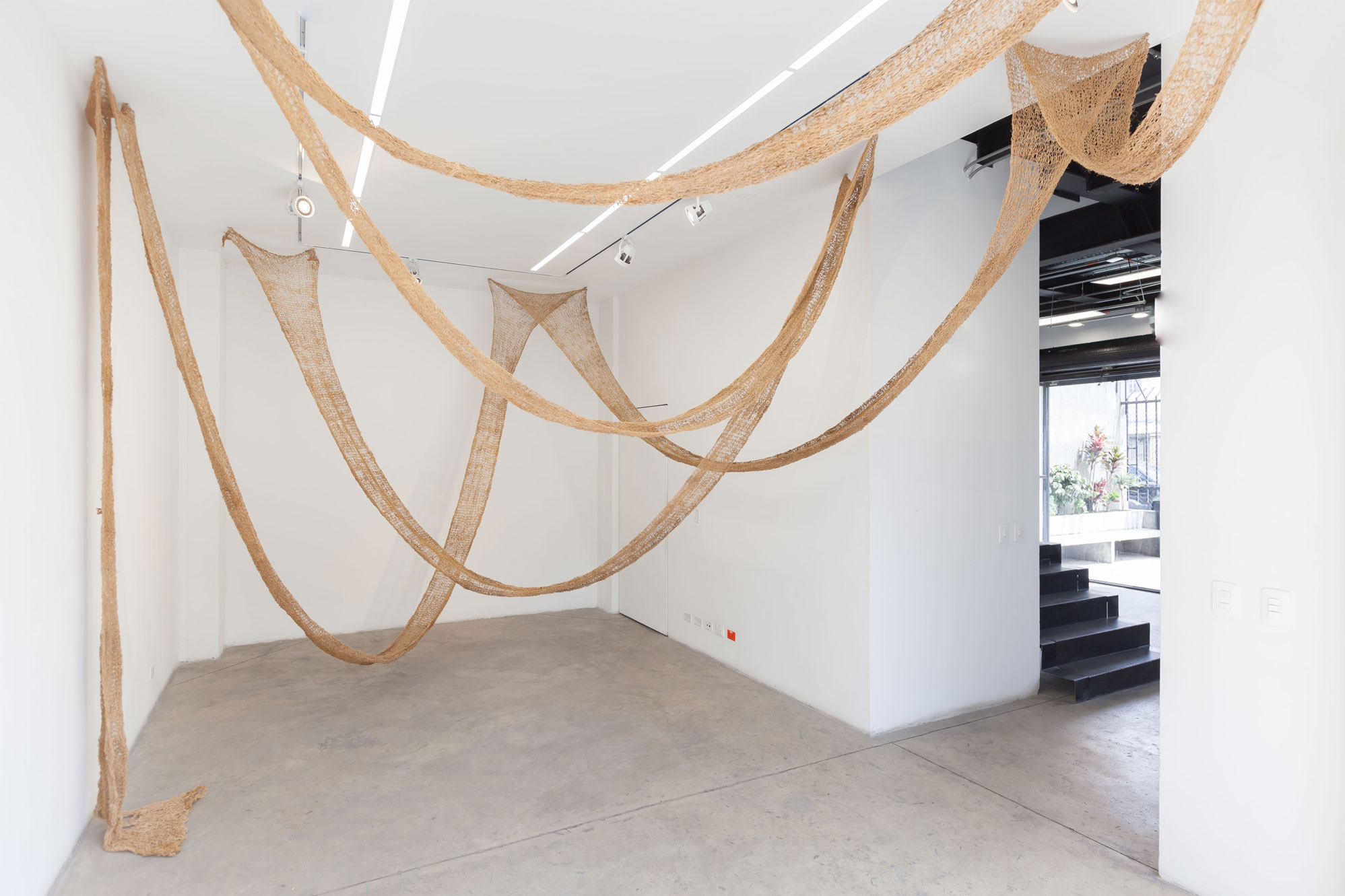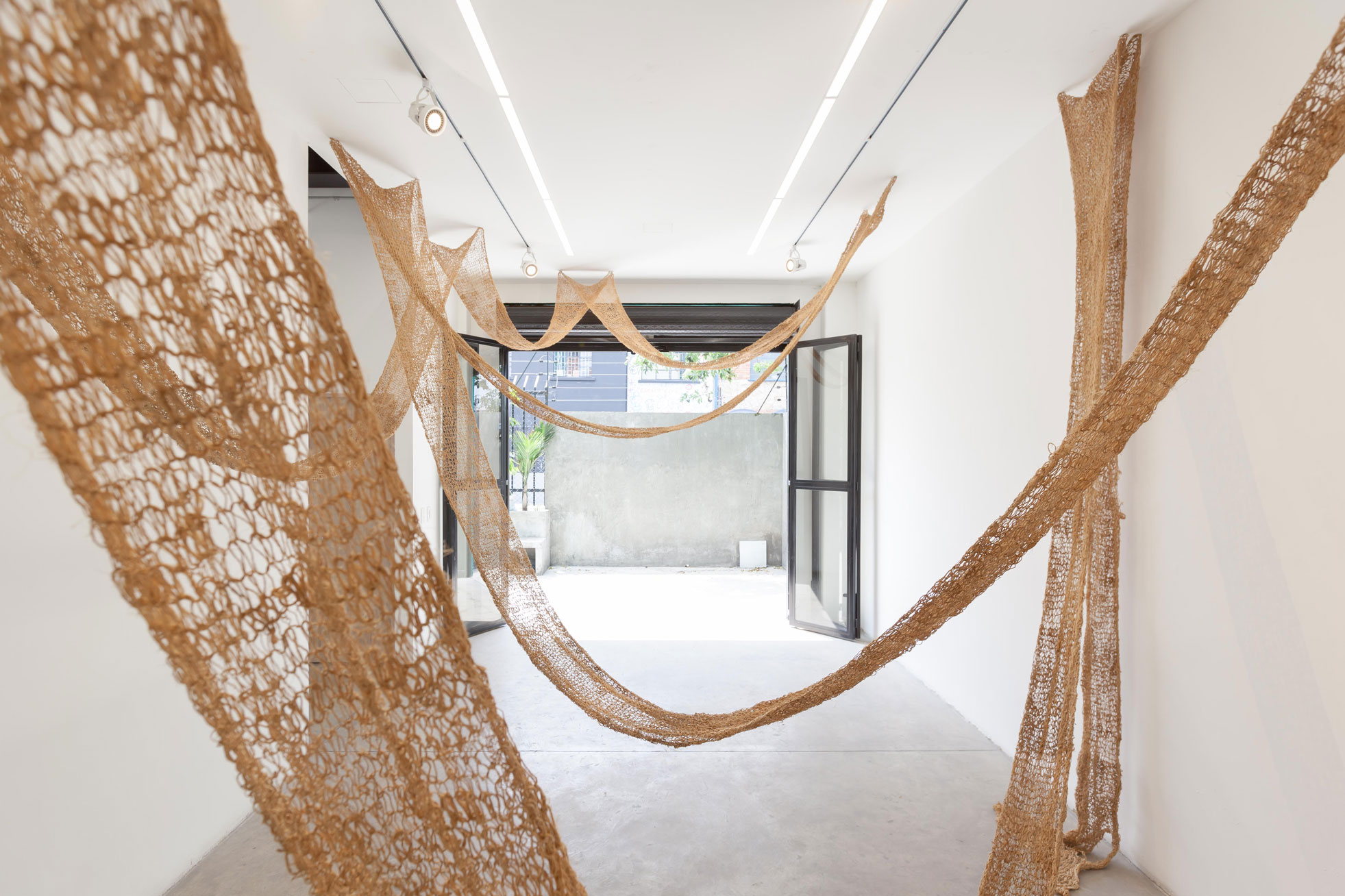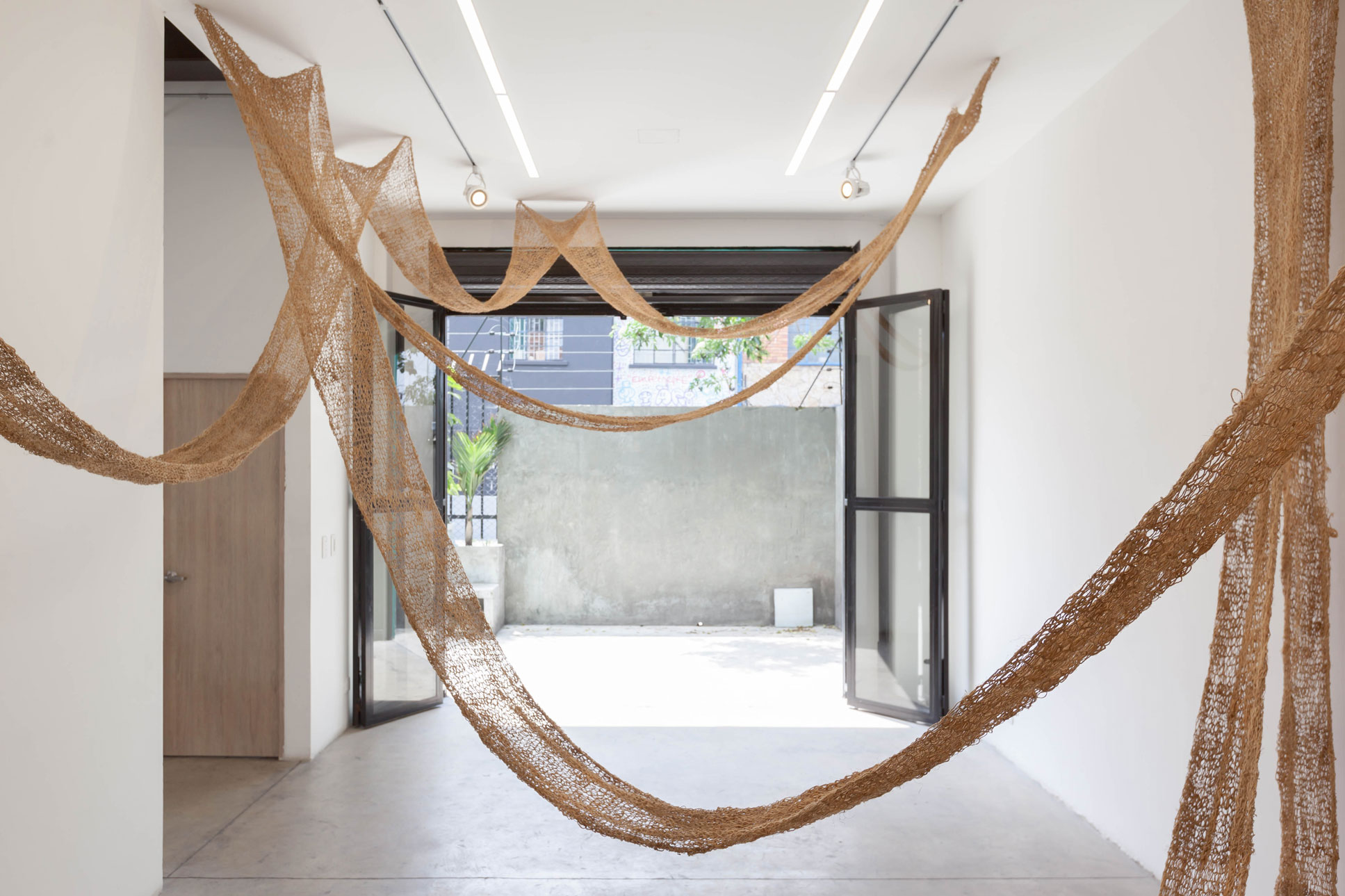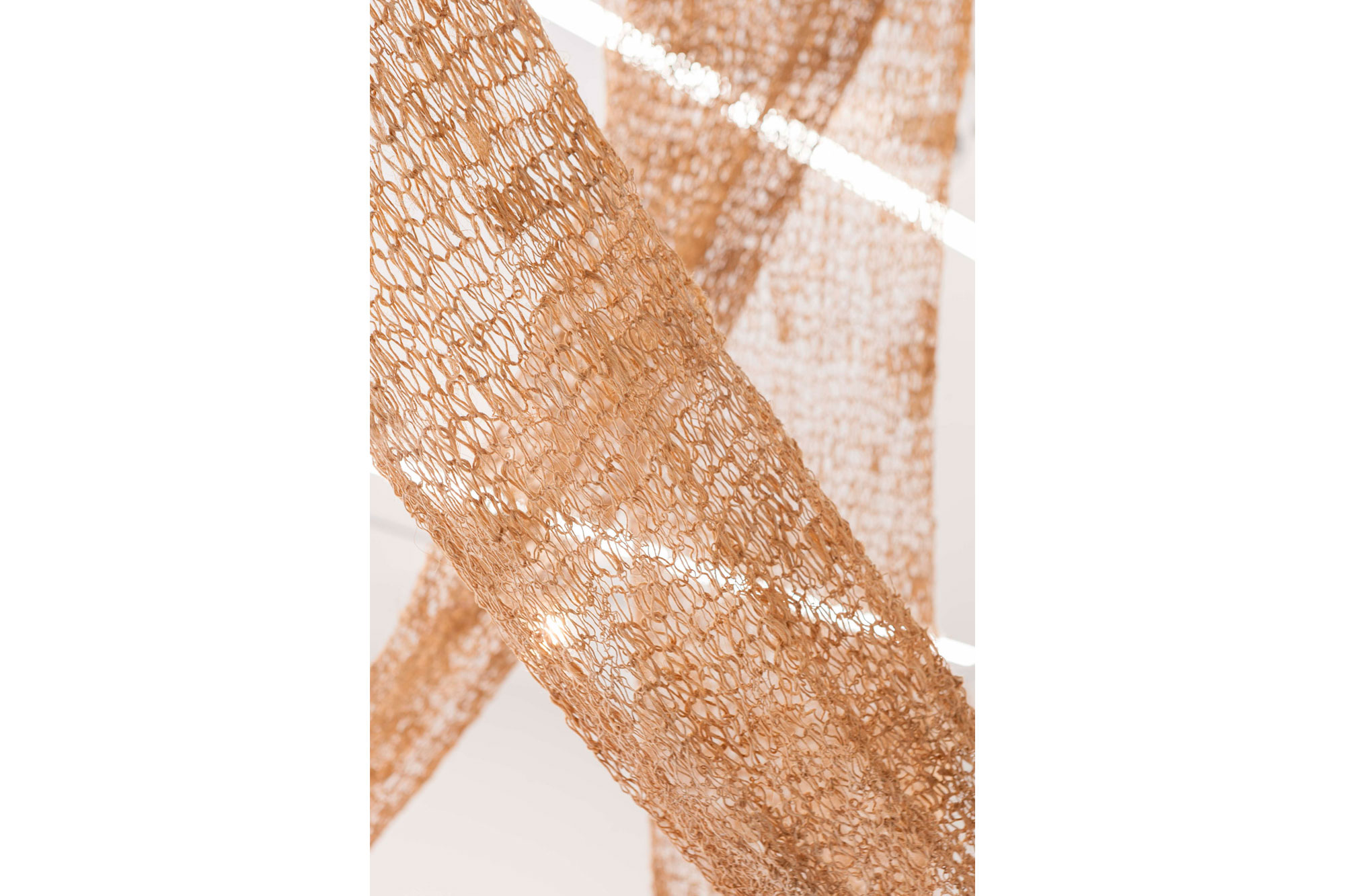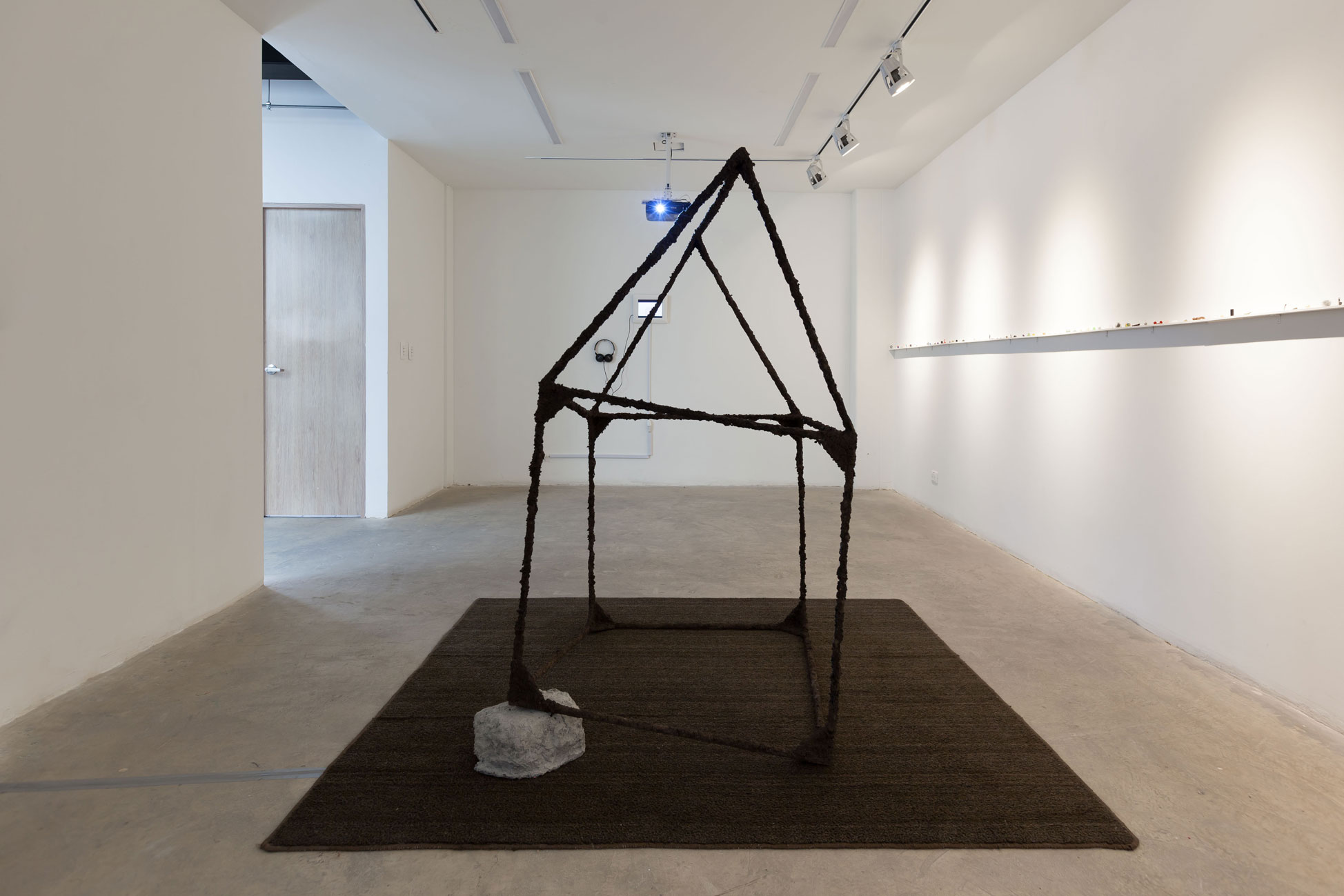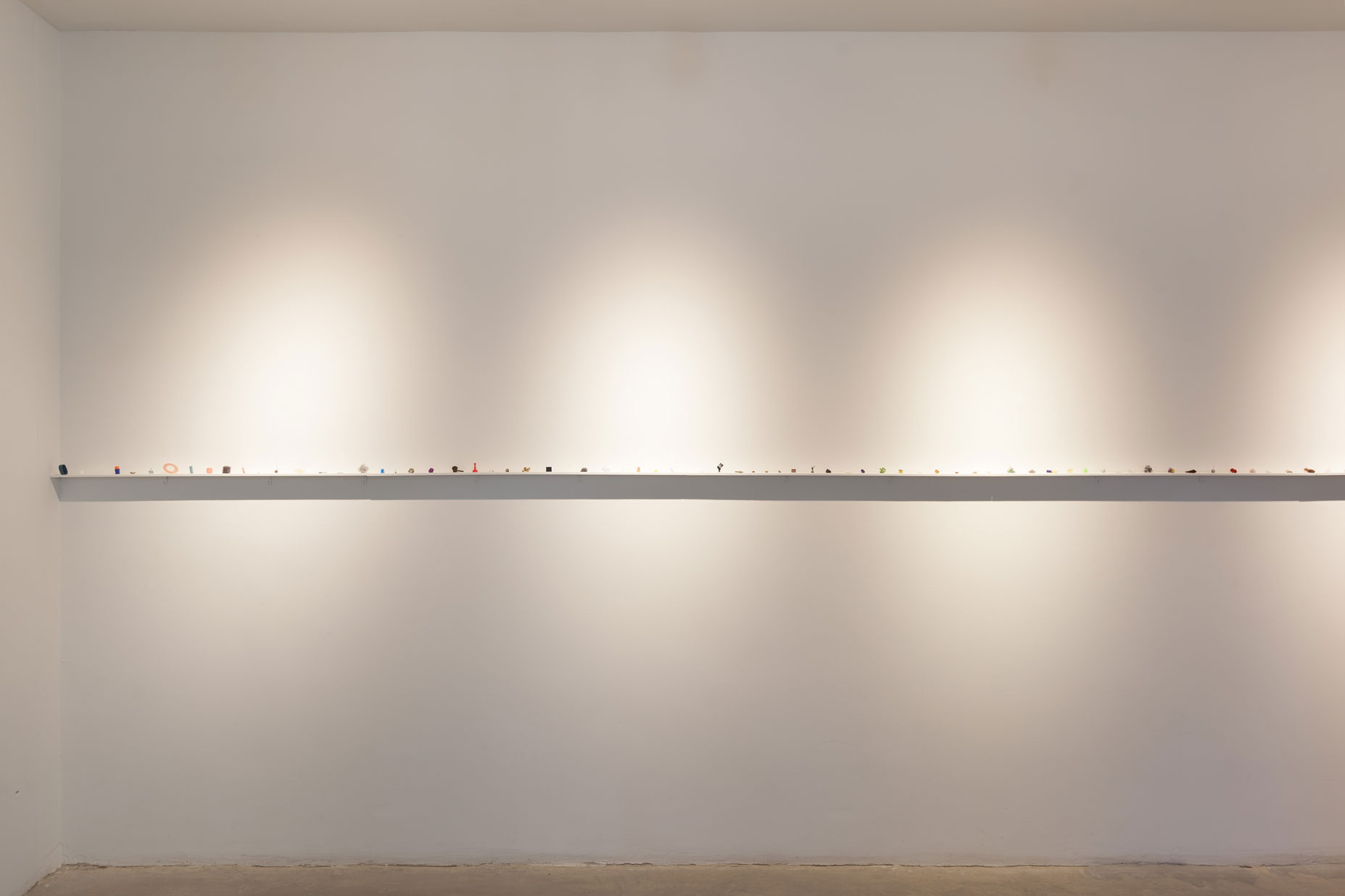 AFUERA EL MUNDO
THE WORLD OUTSIDE
María Angélica Medina, Adriana García
Curaduría: María Camila Montalvo
Texto: Camila Montalvo Senior
Febrero-Marzo 2018
Fotografías: Santiago Pinyol
María Angélica Medina, Adriana García
Curator: María Camila Montalvo
Text: Camila Montalvo Senior
Ferbruary-March 2018
Photographs: Santiago Pinyol
La siguiente, es una entrevista realizada por Adriana García Galán y Margarita Jiménez durante el 2016, cuando invitaron a María Angélica Medina a hablar en 'Dinastía' Laboratorio de arte y familia. Este laborato- rio fue un proyecto de seis meses en el que surgían preguntas como "¿de qué manera se involucra al arte en procesos familiares?", "¿cómo articulan los artistas lo profesional a su vida familiar?". El evento final del labo- ratorio se desarrolló en diciembre de 2016 bajo el pretexto de unas 'onces como las de antes' en LIBERIA y se vinculó con la exposición 'La mente es un hogar' que exhibía el trabajo de mujeres que a pesar de su indudable talento, no están activas dentro del circuito artístico contemporáneo. 'La mente es un hogar' fue el resultado de un proyecto curatorial realizado por Carlos Bonil y William Contreras. A partir de la relación que se esta- bleció entre LIBERIA y Dinastía, invitamos a Adriana García a desarrollar un proyecto que fuese una extensión de lo anterior. Para esto, invitamos de nuevo a María Angélica Medina quien mostrará una pieza que a pesar de haber sido construida en 1981, no ha sido exhibida nunca.

María Angélica: Yo empecé en 1973, en los años 70 y comienzos de los 80. Di dos semestres de clase pero les dije que la universidad era regular y me echaron porque lo dije. En realidad creo que lo era. Me parecía que les enseñaban tieso y que no les daban derecho tomar decisiones de ninguna clase.
A mi lo que me interesa es que se puedan tomar decisiones. Si quiere pararse en la cabeza pues mire
a ver, pero si quiere párese. Les hacían ver la historia del arte con unas fotocopias a una velocidad sin control, en un semestre se veían 500 años y en otro semestre se veían otros 500 años. Después de que me echaron, porque me dijeron que si no hacía lo que ellos decían o me iba para mi casa, me fui para mi casa. Lloré mucho porque me encantaba dar clases. Intenté hacerlo en otras universidades pero del susto nadie me recibió. Entonces empezaron a venir a mi casa una vez a la semana y yo les daba té con roscón.

Margarita Jiménez: María Angélica tenía un parche de estudiantes que íbamos a su casa, de dif- erentes universidades. Humberto Junca, Jaime Cerón, había de los Andes y de la Nacional. Estaba Quique, Melibea, Rodrigo, María Inés Rodríguez, y hablábamos sobre arte.

Y así entonces el hogar de María Angélica se convirtió en una institución artística, en un núcleo de incubación de donde resultaron diferentes personalidades de la esfera del arte. Así mismo, su familia eran los estudiantes que la visitaban recurrentemente para tomar té con roscón, los 'chinos pendejos' como dice María Angélica. Y entonces ¿dónde está la frontera entre lo profesional y lo personal? y ¿hasta qué punto compiten la energía, el tiempo y la maestría aplicada a la vida familiar con el oficio como artistas? Estas son las preguntas presentes en el trabajo de Adriana García Galán, quien desde una mirada contemporánea intenta desdibujar la frontera entre la vida familiar y la vida profesional.

Adriana: ¿Y porqué empezaste a tejer?

M.A: Aprendí porque mi mamá sabía. Nosotros somos una familia que hacemos todo lo que necesita- mos. Arquitectura, muebles, tapetes, todo. No utilizamos casi nada ajeno, muy pocas cosas como las ollas y los sartenes, de resto nada más. Me crié en un mundo así. Mi mamá hacía las cortinas, mi papá los muebles, los tapetes, los cuadros, lo único que yo a prendí fue a tejer. Mi hija Cocó es como mi papá, arquitecto, borda, cose, pinta, diseña el jardín, etc.

Adriana: Para ti siempre fue arte tejer?

M.A: Siempre. Es que el arte puede ser algo utilitario, no tiene que ser obligatoriamente decorativo, aunque un vestido bonito es decorativo de alguna manera. Es algo que comunique, algo "poético", que haga pensar.

A: Tu qué estudiaste?

M.A: Yo hice L'école du Louvre, estudié Museología. Siempre me interesó pensar porqué la gente guar- da cosas.

A: Hacías esto antes de estar activa en el mundo del arte?

M.A: Si mucho antes. Alrededor de 1980 quise hacer otras cosas, empecé a hacer la ropa de mi casa. Hice las cortinas de la casa con plástico de colores con el que tejen los muebles, eran como visillos tensados. Me interesaba que la gente que caminaba por la calle no caminara mirándose los pies, yo trataba de que miraran para arriba. Lo hice por bastante tiempo. Cuando pasó lo del palacio de Justicia yo ya tenía puesta la bandera de Colombia en la ventana, sin haberlo hecho adrede. También empecé a hacer objetos no utilitarios, pero que no tenían límite, porque a mi me dicen 50 x70 y me da mal humor, soy desobediente. Cuando empecé a dar clases y me dijeron 50 x70 pensé que cómo les voy a pedir a chinos de 18 años que hagan 50 x70 si no tienen ni idea quiénes son. Dije que así la uni- versidad no me gustaba porque no les enseñaba a suplir una necesidad espiritual y real, sino a seguir unas normas y a enfrentar una posibilidad de mercado. Les dije que para eso se hagan plomeros.

M.: Empezó a tejer una cosa que no tenía fin, un rollo gigante.

M.A: Es una larga conversación. Cada 70 metros yo cambiaba de aguja y de puntada, pero eran muchas. Tenia dos conos verdes que aparecieron por ahí, y había un pedazo verde porque uno tiene derecho a cambiar de idea. Con eso me presenté a los salones.

M.: Era un performance.

En este sentido María Angélica, al igual que Adriana, adopta sus actividades cotidianas como un oficio artístico dentro de esta muestra. Ambas trabajan desde este aspecto íntimo, doméstico y familiar de sus vidas, ex- pandiéndolo hasta el punto de envolver a un público. Las piezas una vez acomodadas a su manera en las salas de exposición, difícilmente permiten trazar el borde entre el lugar, la rutina y la persona; entre su pequeño mundo y el mundo expandido de un público que entra en esos pequeños hogares expuestos y abiertos. Es precisamente por esto que esta muestra a diferencia o en similitud a muchas otras, es generosa, en el sentido en que le permite a las artistas reconquistar en cierta medida su tiempo personal, y recordar el alcance pene- trante que tienen sus manos pero, que por otra parte, les obliga a salir de la comodidad de la intimidad misma que, a lo sumo, comparten con los más próximos afectivamente hablando. Como resultado, el espacio expositi- vo se trastorna en un espacio de indagación que cuestiona la idea de legado y de profesionalización.

M.A: Cuando yo llegué a dar clase, les dije que me contaran lo que tenían en su cuarto: si era decora- do por ellos o por su papá y su mamá, porque a mí nunca me dejaron decorar nada, todo era hecho por mi papá. Por eso hice los vestidos, por que era lo único que yo podía hacer, el resto ya estaba. Y porque tener algo que no fuera auténticamente verdadero era pecado en la familia. No podía com- prar un mueble italiano de diseño, todo era hecho en la casa. Mi única opción fue mi ropa.

Y es cómo desde su cuarto, desde su casa, desde la semilla, desde ese huevo conteniendo una vida en poten- cia que para expresarse, debe salir del nido, o en este caso, invitar al nido. Las experiencias creativas llevadas a cabo para el hogar o la familia se distienden en el momento en que rompen la cáscara y abandonan la certeza y la seguridad para salir al mundo, en el momento en que se deciden sacar de lo privatizado al aire renovador de la intemperie de lo público. Es esta pulsión creativa que se cultiva en la raíz, desde la semilla del hogar, pero que finalmente crece hasta convertirse en el caldo de cultivo. Es la introversión necesaria para crecer hacia la extroversión imprescindible, es la fuerza centrífuga con relación la centrípeta que en definitiva, simboliza la posibilidad de encontrar el equilibrio necesario entre la vida familiar y su integración con el mundo exterior.

Y cuando María Angélica Medina y Adriana García Galán exponen su sensibilidad, cunado abren ese pequeño mundo interior, los procesos creativos no sólo salen del límite de la vida familiar sino que tampoco se quedan en la oficina o en el estudio del artista. Más bien se extienden a todos los ámbitos de la vida, se extienden allá AFUERA EL MUNDO.


María Camila Montalvo


The following is an interview conducted by Adriana García and Margarita Jiménez in 2016, when María Angélica Medina was invited to speak in 'Dinastía' (Dynasty), a laboratory about art and family. This laboratory was a six month long project where some questions came up, like "how is art involved in family processes?" and "how do artists articulate the professional with their familiar life?". As a closing event for the Laboratory, a snack was held in LIBERIA in December of 2016. This was linked to the exhibition 'La mente es un hogar' (The mind is a home), which exhibited artworks of different women that are not active in the contemporary art circle, even when they have a lot of talent. 'La mente es un hogar' was the result of a curatorial project between Carlos Bonil and William Contreras. As a result of the newly stablished relationship between LIBERIA and Dinastía, we invited Adriana García to develop a project as an extension of what was mentioned before. Consequently, we invited again María Angélica Medina, who will show a piece created in 1981 that has never before been exhibited.

María Angélica: I started in 1973, between the 70s and the early 80s. I taught a class for two semesters, but then I told them I thought the university was regular and they fired me for what I said. Actually, I believe in what I said. I thought the things taught were stiff and they didn't give the students any chance to make decisions. If you want to stand on your head, then figure out how, but do it if you want. They made them study art history from photocopies at a very quick pace: in a semester they would learn 500 years of history and in the next one another 500 years. I was fired because they told me I could either do as I was told or go home, so I decided to go home. I cried a lot because I loved to teach. I tried teaching at other universities, but they were too scared to accept me. Then some students started to come to my house once a week and I would give them tea and donuts.

Margarita Jiménez: María Angélica had a group of students from different universities that would go to her house. Humberto Junca, Jaime Cerón, from Universidad de Los Andes and National University. Quique, Melibea, Rodrigo, María Inés Rodríguez were all there and we used to talk about art.

Somehow María Angélica's home became an artistic institution, a place where a lot of artistic personalities emerged. At the same time, her family was all the students who used to visit her recurrently to have tea and donuts, the 'chinos pendejos' as María Angélica calls them. Therefore, where is the limit drawn between the professional and the personal spheres in life? And is there a point in life where the energy, the time, and the mastery in familiar life can compete with their careers as artists? These are some questions that are present in Adriana García's artistic work, who tries to blur the boundaries between her familiar life and her professional life.

Adriana: Why did you learn to knit?

M.A: I learnt because my mom knew how to. We are a family that makes everything we need. Architecture, furniture, tapestry, everything. We barely use something that we didn't make, just things like pots and pans, nothing else. I was raised in a world like that. My mom used to make the curtains, my dad the furniture, the rugs, the paintings, but the only thing I learnt to do was to knit. Mi daughter Cocó is like my dad, she's an architect, she embroiders, paints, designs the garden, etc.

Adriana: Did you always think of knitting is art?

M.A: Always. For me art can be something utilitarian, it doesn't have to be decorative, although in a way a dress can be decorative. Art is something that communicates, something 'poetic' that makes you think.

A: What did you study?

M. A: I went to L'école du Louvre, I studied Museology. I've always been interested in thinking about why people keep some things.

A: Did you do that before you were active in the art world?

M. A: Yes, a long time ago. Around 1980 I wanted to do different things, I started to make clothes for my house. I did the curtains of my house with colored plastic, the one people use to knit furniture, they were like stretched curtains. I was interested in people walking in the street not looking at their feet, I wanted to make them look up. I did this for a long time. After what happened in the Palace of Justice, I had already put the Colombian flag on my window, without knowing what was going to happen. I also started to make non-useful objects, but they didn't have a limit, because I get angry if they tell me 50 x 70, I'm disobedient. When I started to teach and they told me it had to be 50x70 I thought 'how can I ask 18 year olds to make something 50x70 when they don't even know who they are?' I said I didn't like the university that way because it didn't teach them to supply a real and spiritual need, but just to follow some rules and deal with the market. I told them that they'd rather become plumbers.

M: You started to knit a roll that didn't have an end, a gigantic roll.

M.A.: It is a long conversation. Every 70 meters I would change the needle and the stitch, but there were so many. I had two cones of green thread that appeared somewhere and there was a green piece because one should have the right to change ideas. With this piece I presented myself for the art salons.

M: That was a performance.

This way, María Angélica and Adriana both use daily activities as an artistic practice within the exhibition. They both work from the intimate, the domestic and the familiar aspects of their lives, expanding it until it involves the public. The pieces, once accommodated in the exhibition space, hardly trace a border between the place, the routine and the person; between their small world and the expanded world of the public that reaches into this exhibited and open small homes. Thus this exhibition, in contrast to many others, is generous because it allows the artist to conquer their own personal time by reminding them of the extent of their hands. However, at the same time, it makes them leave the comfort of their own intimacy, the one they only share with the people they feel closer to. As a result, the exhibition space becomes a place of inquiries that questions the concepts of legacy and proffesionalization.

M.A: When I started to teach, I asked the students to tell me about the objects in their room: if it was decorated by them or by their parents, since I was never able to decorate my room, everything was done by my dad. That's why I made the dresses, because it was the only thing I could actually do, everything else was already done. And it was a sin to have something that was not truly authentic from the family. I couldn't buy an Italian piece of furniture, it was all made at home. My only choice was my clothing.

And that is how from her room, from her house, from the seed, from that egg that carries life from within, a life that to in order to express itself, needs to abandon the nest, or in this case, invite you to the nest. The creative experiences that are carried around their homes and families distend in the moment they break their shells and abandon any certainty and security to go out to the world. It is at that moment when they leave the private to reach the renovating air of the outdoors and the public. This creative pulse that is cultivated from the roots, from the seed of their homes, finally grows to become a breeding ground. It is the necessary introversion to grow into an essential extroversion, it is the centrifugal force in relation to the centripetal one that symbolizes the possibility to find a necessary equilibrium between the familiar life and its integration to the external world. When María Angélica Medina and Adriana García Galán show their sensibility, once they open the door to their small interior world, their creative processes leave the boundaries of their familiar life, though they neither stay in the office nor the artist studio. On the contrary, they extend to all fields of life into THE WORLD OUTSIDE.

María Camila Montalvo
Calle 75a #23-10 entrada por la carrera 2 3 Barrio San Felipe - Bogotá Colombia
Tel. +57 1 7355923 / info@adorno-liberia.com
Exposición actual: En Aguante.
Hija de Perra, ektor garcia y Jota Mombaça.
Un proyecto curatorial de Julia Eilers Smith.

Horario: Martes a Viernes de 11am a 5pm - Sábados de 12 a 4pm